Rogue Fitness Reviews – Are They Worth The Money In 2023?
Hey, just so you know, some of the links in this post are affiliate links. That means if you click 'em and buy something, I get a little kickback, no extra cost to you. It's like buying me a protein shake without actually having to make the shake. Thanks for the support!
Rogue Fitness is one of if not the absolute best companies when it comes to fitness equipment.
Their equipment is always top-notch, their customer service is fantastic, and they're American-made on top of that.
Which I know a lot of people consider over anything else.
That being said, is Rogue Fitness worth the money?
YES and NO.
I'll go over why I think they're worth it and why they might not be depending on who you are and what type of gym you're outfitting in this review.
Check out my Rogue Fitness guide for their best equipment if you want to learn more!
Let's get started!
Key Takeaways
| Main Questions | Quick Answers |
| --- | --- |
| Is Rogue commercial quality? | Yes, Rogue equipment has incredible finishes, solid welds, and their quality control is top-notch. |
| Does Rogue have sales? | Yes, they offer various sales like Hot Deals, Matte Friday, and more. No coupons or codes though. |
| Is Rogue Fitness reliable? | Absolutely. Known for high-quality equipment, exceptional customer service, and timely delivery. |
| Why is Rogue so expensive? | Quality and craftsmanship. They prioritize high-grade materials and American manufacturing. |
| How long does Rogue shipping take? | Typically 3-7 business days, but this can vary based on product availability and destination. |
| Can Rogue equipment be used outdoors? | Yes, but it's recommended to protect it from extreme weather to prolong its life. |
| Are there better alternatives to Rogue? | It depends on the budget and needs. Brands like Titan offer lower prices but might compromise on some quality aspects. |
| Why choose Rogue over other brands? | Consistent quality, exceptional customer service, and a wide product range make Rogue a top choice for many. |
Made In The USA
First up is that Rogue is made in the USA and CEO Bill Henniger has always intended it to be that way.
His entire mission is to create durable products in America.
They buy all of their steel from American sources. Henniger did this as a patriotic duty to himself and the economy.
Having the jobs located here compared to outsourcing them to other countries allows them to create high-quality equipment that doesn't cut corners as others might.
Plus, because Rogue only deals locally with their manufacturing, they can test and launch new products in a matter of days.
This puts them ahead of their competition consistently.
While other companies might build things just to be good enough, Rogue Fitness tries to go above and beyond that.
This is why Rogues customers prefer them because they know that their equipment will last a lifetime, and they aren't buying second best.
If you're worried about the quality of your garage gym, rest assured that Rogue equipment is made in the USA and the quality reflects that.
Incredible Manufacturing Capability
Rogue Fitness was started in London, Ohio, by Bill Henniger in 2006.
He started it by himself in his garage and 4 years later set a goal to build a 500-person team.
They finally hit that goal in 2015 and have increased that to over 600 team members in 2019.
Since that time, Rogue has purchased over 30 acres and built a massive $50 million Headquarters and campus.
They now own 40+ acres of land and buildings in Columbus, Ohio.
And here's the crazy part, in 2018 alone, "Rogue Fitness consumed 26 million pounds of steel, 14 million feet of welding wire, and 130,000 pounds of powder coat in their manufacturing factory."
As you can see, Rogue has the numbers and space to create massive amounts of equipment.
This has helped them a ton this past year compared to other companies that have been out of stock consistently.
Plus, the overall Rogue Fitness net worth is estimated to be around $630,000.
If you want to invest in the best workout equipment possible, there isn't a more reputable and successful gym equipment company than Rogue.
Superior Quality Control
As you could see from the size of Rogues' operation and just how much effort they put into their products, quality control isn't something you have to worry about.
I've looked up tons of comments and Rogue Fitness reviews worldwide, and the one thing that is never a complaint is how great Rogue's products are.
The welds and finish on all of their products are incredible, none of the equipment breaks down, and they're just a cut above the rest.
If you buy anything from Rogue, you don't have to worry about the quality whatsoever.
That's what you're paying for and one of the main reasons why they're worth your money.
Easily Find Used Rogue Equipment For Sale!
Here's something that many people already know. If you buy from Rogue and need to resell things later on to upgrade, your equipment's value will always be there.
A lot of other companies don't have the luxury of saying the same.
I've seen tons of Rogue gym equipment for sale that has retained its value incredibly well.
The crazy thing is a lot of these have been used a ton, but because it's Rogue, the quality of the products just doesn't go down at all.
Especially if it's something like a power rack or Olympic bars.
They will literally last two lifetimes because of how high their durability is.
This is another major factor when deciding what equipment to buy. If you want to get a newer and bigger rack from Rogue, you can sell your old one without worrying about losing your investment.
Most brands can't say the same, unfortunately, but if somebody sees you're selling used Rogue equipment, they're willing to pay the price.
Warranty
Rogue Fitness has one of the best warranties on the market for a ton of its products.
It's actually a huge list that's pretty exhaustive, so I'll link a screenshot below of their general warranty.
For Rogue's general warranty, they have a ton of products that are covered under normal use.
Here's a quote going over when you messed up and voided the warranty,
"Warranty may be voided for any product which has been damaged due to negligent or faulty use, alteration, maintenance, storage or handling by the user. Any specific issues regarding a Rogue Fitness product with which a customer is not satisfied will be reviewed on a case-by-case basis."
Basically, as long as you aren't storing your fitness equipment outside in the elements or altering the equipment, you're good.
If you're training and a weld snaps on your rack, that's obviously bad and unlikely. But, luckily, that's going to be covered.
This is a nice piece of mind considering most of these have multiple years and lifetime guarantees.
They also offer other warranties depending on the type of equipment you have.
Rogue Fitness Barbell Warranty
Rogue Fitness ECHO Airbike – Warranty
Power Place Barbell Warranty
Eleiko Barbell Warranty
Uesaka Barbell Warranty
Werksan Barbell Warranty
York Barbell Warranty
MDUSA Product Warranty
Westside Scout Hyper Warranty
Depending on what you buy, odds are it's covered under some type of warranty from Rogue. Once again, another reason why you should invest in them.
If you want to learn more about Rogue's Warranty Information, click here.
Rogue Fitness Customer Service
One of the most important factors when deciding where to buy equipment is how good their customer service is.
If you buy equipment with defects or any other problem, you don't want to argue with poor customer service reps to get things replaced and make things right.
Luckily, Rogue has great customer service considering how huge they are as a company.
So many people have stories about Rogue Fitness going above and beyond to assist their customers.
Rogue Return Shipping Help
One example is this guy who bought the wrong monolift system and had to return it.
UPS quoted the return at $242 while the monolift itself only cost $325. I shouldn't have to explain why this is ridiculous and dumb as hell.
Instead, this individual hopped on the rogue fitness website and told them all about the insane shipping costs to return it.
The Rogue customer service agent responded quickly, saying that they would create a return shipping label for them using Rogue's rate of around $38.
Not only is this a huge saving, but that's what above and beyond customer service looks like!
It would be great if it only stopped there, but this person who I'll call Bob from now on had more to tell!
Bob noticed his package had been sitting in one location for 4 days. He calls up UPS, and it takes over an hour between waiting or talking to the wrong people to finally find out what happened.
His package was lost, and it could take up to 8 business days to resolve the whole situation.
This is stupid, and I know from experience how annoying it can be to get a refund when our postal services mysteriously lose massive packages like this.
Well, Bob was pissed obviously, and called UPS multiple times over the following 3 weeks.
The final straw was when, almost a month later, with no help, he finally got an update that they hadn't even started investigating.
Talk about infuriating, am I right?
Bob is pissed and wants nothing more than to destroy UPS for their lackadaisical customer support and complete disregard for people's hard-earned money.
Finally, Bob contacted Rogue customer service and filled them in on the whole situation.
Here's what this awesome Roguesend of a representative had to say,
"Tell you what, UPS can be pretty tough to deal with, I'll generate the full refund right now and we'll take over dealing with UPS so you won't have to do anything else. Is that okay?"

Amazing Rogue Fitness Representative That Actually Kicks Ass At His Job
Bob received an email confirmation for the amount of his refund before Rogue's representative finished the call.
Obviously, Bob is a happy customer and will continue to buy from Rogue for the rest of his life.
As you can see, this is the type of customer service you can expect from Rogue.
Plus, there are hundreds of other testimonies out there reporting the same thing.
This, combined with all of the points made above, proves that Rogue Fitness is absolutely worth the money.
They care about their customers, continue to improve their products, and their quality is just on a completely different level.
Especially compared to crappy entry-level budget equipment made by no-names trying to make a quick buck without giving a single fuck about the people they're selling to.
Rogue is the real deal and absolutely deserves all the hype that they get.
Bottom line.
The ONLY Negative Thing About Rogue Fitness
Obviously, if Rogue knocked it out of the park on craftsmanship, build quality, customer service, and literally everything else that makes a company great, they have one negative.
The price.
Sure, compared to more budget options like Titan Fitness and below, it looks like their equipment is overpriced.
Compare it to other brands that are of comparable value, and they're actually very affordable.
Yes, you have to pay more for shipping costs, but this is simply because their equipment is heavy-duty and costs them money to ship out to everybody.
If they sold a bunch of flimsy benches and power racks made of aluminum foil, it would be easy to offer free shipping.
If you have a low budget and need to save as much as possible, I still would recommend getting at least a Rogue Fitness barbell and rack if you can afford it.
Do you actually need a power rack for your home gym? Click here and find out!
Everything else, including plates, benches, and more, can be bought from others such as Rep Fitness, Titan Fitness, and more without much worry.
Just don't buy on Amazon from no-name brands trying to make cheap crap for easy money.
They don't care about your safety like these bigger companies do.
Suppose the only negative thing you can say about Rogue is that they offer premium products that cost a ton of money. In that case, they're doing pretty good, in my opinion.
Other than that, Rogue is definitely worth the money if it fits your budget.
If it doesn't, that's okay. Just know that Rogue is definitely worth saving up for and investing in better, higher-quality equipment.
Simple as that.
Rogue Fitness Equipment I Recommend
There are a couple of pieces of equipment I recommend you get from Rogue.
Rogue Power Racks
Best Rogue Monster Rack
Rogue RM-6 Monster Rack 2.0
Upgrade your home gym with the Rogue RM-6 Monster Rack 2.0. This sturdy equipment is built from 3x3" 11 gauge steel and features 1" hardware with a choice of black or bright zinc finishes. With customization options for crossmembers, pull-up bars, J-hooks, and safeties, plus compatibility with over 50 different Monster attachment options, you can create the perfect workout experience. Available in 11 custom colors and with 90", 100", or 108" upright options, the RM-6 Monster Rack 2.0 is a durable and versatile addition to any home gym.
CLICK FOR BEST PRICE
We earn a commission if you make a purchase, at no additional cost to you.
The first is a solid power rack that allows for the most customization options to endlessly expand your garage gym.
There are so many solid Rogue squat racks so you really can't go wrong when choosing one.
Probably the best overall is going to be the Rogue RM-6 Monster Rack.
It's literally a tank and has a massive amount of attachments to add on such as different pull-up bars, safety arms, and more!
Rogue Barbell
Best Rogue Barbell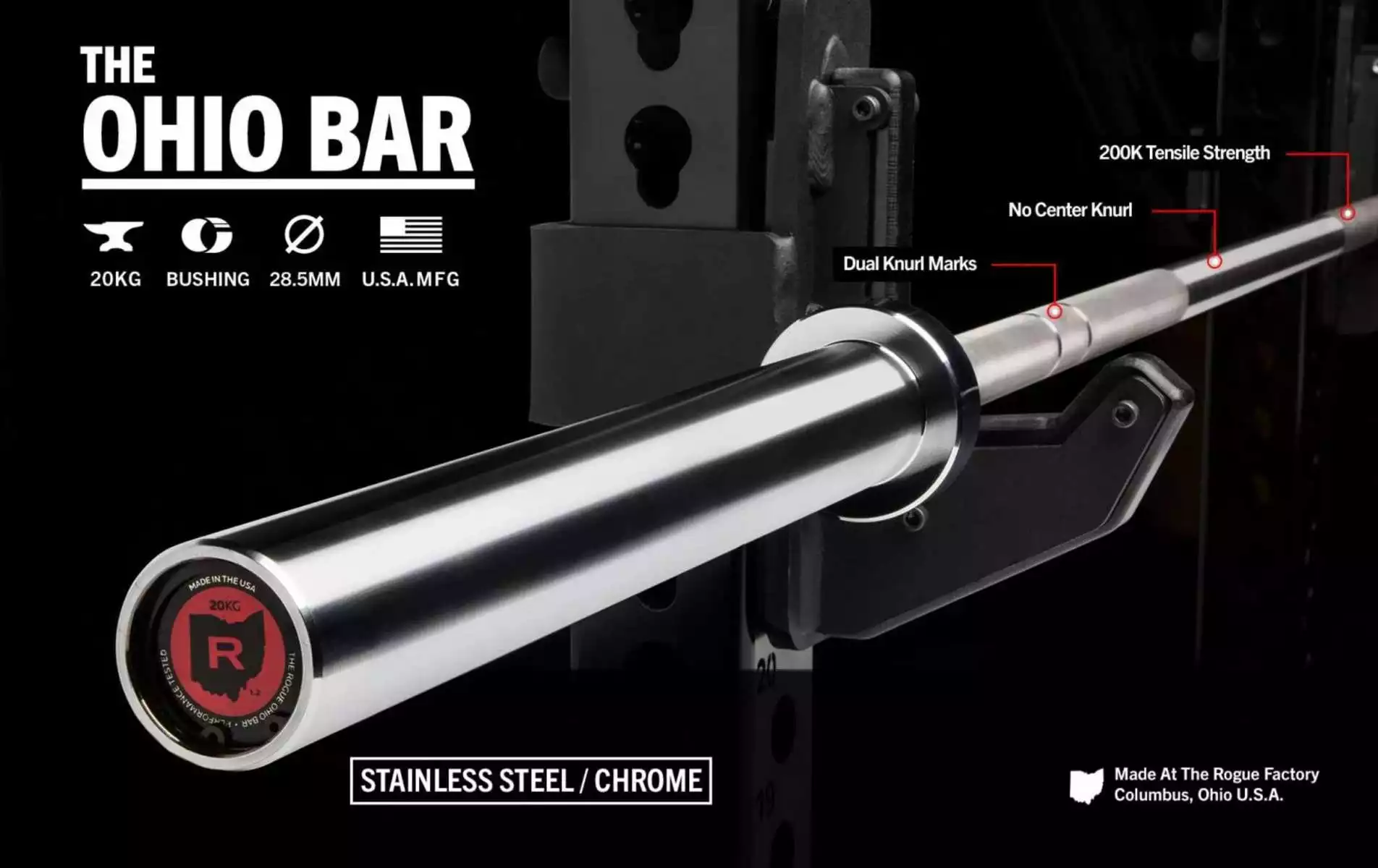 The Ohio Bar – Stainless Steel
Made in the USA, The Ohio Bar is a top-of-the-line, multipurpose barbell. It's constructed of the highest quality materials with a 200,000 PSI shaft and chrome sleeves for a consistent spin. The Ohio Bar has a firm, non-abrasive grip and is perfect for both Powerlifting and Olympic lifts. With its unique balance of whip and rigidity, this bar is ideal for any serious lifter.
CLICK FOR BEST PRICE
We earn a commission if you make a purchase, at no additional cost to you.
Of course, no self-respecting garage gym owner can forget to invest in a proper barbell as well.
Rogue makes some of the best barbells in the industry and is absolutely worth spending extra on.
The best barbell that I've ever used is the Rogue Ohio Bar.
It's by far the best option if you just want a multipurpose bar that can do it all.
They offer a couple of different variations such as stainless steel, cerakote, bare steel, and more!
You won't regret picking one of these up that's for damn sure.
Another bar that's just as good is the Rogue Bar. It is a little cheaper than the Ohio Bar depending on the finish you get.
They both perform largely the same but the Rogue Bar is only offered in black zinc.
Regardless of what you pick, they both offer incredible value and are meant to last a lifetime.
Rogue Weight Bench
Another important piece of workout equipment you should consider is a weight bench.
They allow for a ton of variety in your training and you'll definitely want a sturdy one to maximize your strength, muscle mass, and safety.
If you just want a basic flat bench, I recommend Rogues Flat Utility Bench.
Best Rogue Flat Bench
Rogue Flat Utility Bench 2.0
No nonsense. No limitations. No assembly required. The redesigned Rogue Flat Utility Bench takes the weight bench back to basics, featuring 2x3" 11-gauge steel construction, a high-density Neoprene pad, and a pair of angled, wide-set legs for maximized stability.
CLICK FOR BEST PRICE
We earn a commission if you make a purchase, at no additional cost to you.
However, if you want even more variety in your training, I recommend you pick up the Adjustable Bench 3.0.
It is a considerable upgrade over the 2.0 model and compared to a standard flat bench, is a much better option if you want the best bang for your buck.
Best Rogue Adjustable Bench
Rogue Adjustable Bench 3.0
Version 3.0 of the Rogue Adjustable Bench features an upgraded 3x3" 11-gauge steel frame, an expanded range of incline and seat positions, and an efficient bolt-together design.
CLICK FOR BEST PRICE
We earn a commission if you make a purchase, at no additional cost to you.
Conclusion
Rogue is the best in the business and has a ton of awesome equipment that I just don't have the time to go over in one article alone.
You really can't go wrong investing in a Rogue Fitness home gym, but it might be overkill for many people.
I highly recommend Rep as they're probably the best alternative to Rogue.
If you want a more budget-friendly option, check out my Titan Fitness buying guide to see what they have to offer.
Thanks for reading, and I hope you can get your hands on some quality equipment thanks to this guide.
Until next time,
-Dante