We Found The Best Rogue Equipment For Your Home Gym In 2023
We all know that Rogue Fitness is definitely worth the money, so let's check out the best Rogue Fitness equipment they currently sell.
This guide will be broken up into different sections focused on barbells, benches, power racks, and more!
On top of that, I'll go over their best, runner-up, and budget options so you can make the right choice for your own financial situation.
With that being said, let's get started!
What Is The Best Rogue Fitness Equipment?
Best Olympic Bar – Rogue Pyrros Bar
Best Rogue Olympic Bar
Rogue Pyrros Bar – Stainless Steel
The Pyrros Bar is now an official, IWF Certified barbell. The final design combines a stainless steel, 200,000 PSI tensile strength shaft with 10 quality needle bearings and a choice of chrome-plated or stainless steel sleeves (the all-stainless Pyrros Bar is the top-end 28mm barbell that Rogue now produces).
CLICK FOR BEST PRICE
The absolute best Olympic bar Rogue Fitness produces is the Rogue Pyrros bar.
This bar was developed with the help of three-time gold medalist Pyrros Dimas.
The main features he laid out for a better barbell include the following:
This allows for a better grip on the bar while also making the lifter feel more connected to the weight.
Rogue Fitness provided Pyrros with bars made from different materials, including; various types of steel, different knurl textures, and different sleeve lubricants.
Rogue finally got it perfect, and Pyrros told them they should name it the "Pyrros Bar." Which is exactly what they did.
Considering this bar was approved by a legendary Olympic gold medalist, you know it has to be an incredible Olympic bar.
If you want the absolute best Olympic Bar Rogue Fitness sells, this is the one.
Best Power Bar – Rogue Ohio Power Bar
Best Rogue Power Bar
Rogue Ohio Power Bar
The Rogue Ohio Power Bar is designed to handle the toughest workouts with its impressive 200,000 PSI tensile strength. This barbell is built to last with a lifetime warranty and is made in the USA with high-quality materials. The 29mm diameter and bushing sleeves provide a smooth spin, making it perfect for powerlifting movements. The bar is available in various finishes, including stainless shaft/sleeves, stainless shaft/chrome sleeves, black e-coat/bright zinc, bare steel shaft/sleeves, and bright zinc shaft/sleeves.
CLICK FOR BEST PRICE
FULL REVIEW
The best powerlifting barbell from Rogue Fitness is their stainless steel Ohio power bar. You're going to see many Ohio bars in this next section so get used to it!
This version of the Ohio power bar is more expensive for a few reasons.
Because this bar is finished in stainless steel, it provides a much better oxidation resistance. This makes it lower maintenance to keep them in great shape, which is nice. This aluminum finish also helps prevent chipping and wearing down the finish on the bar.
200,000 PSI Tensile Strength with a snap-ring design featuring bronze bushings for a smooth feel.
Aggressive knurling gives you a superior grip without being sharp and destroying your hands.
Basically, suppose you want the best power bar that Rogue Fitness offers while also maintaining its beautiful finish from use. In that case, this is the bar for you.
Best Multi-Purpose Bar – The Rogue Ohio Bar
Best Rogue Multi-Purpose Bar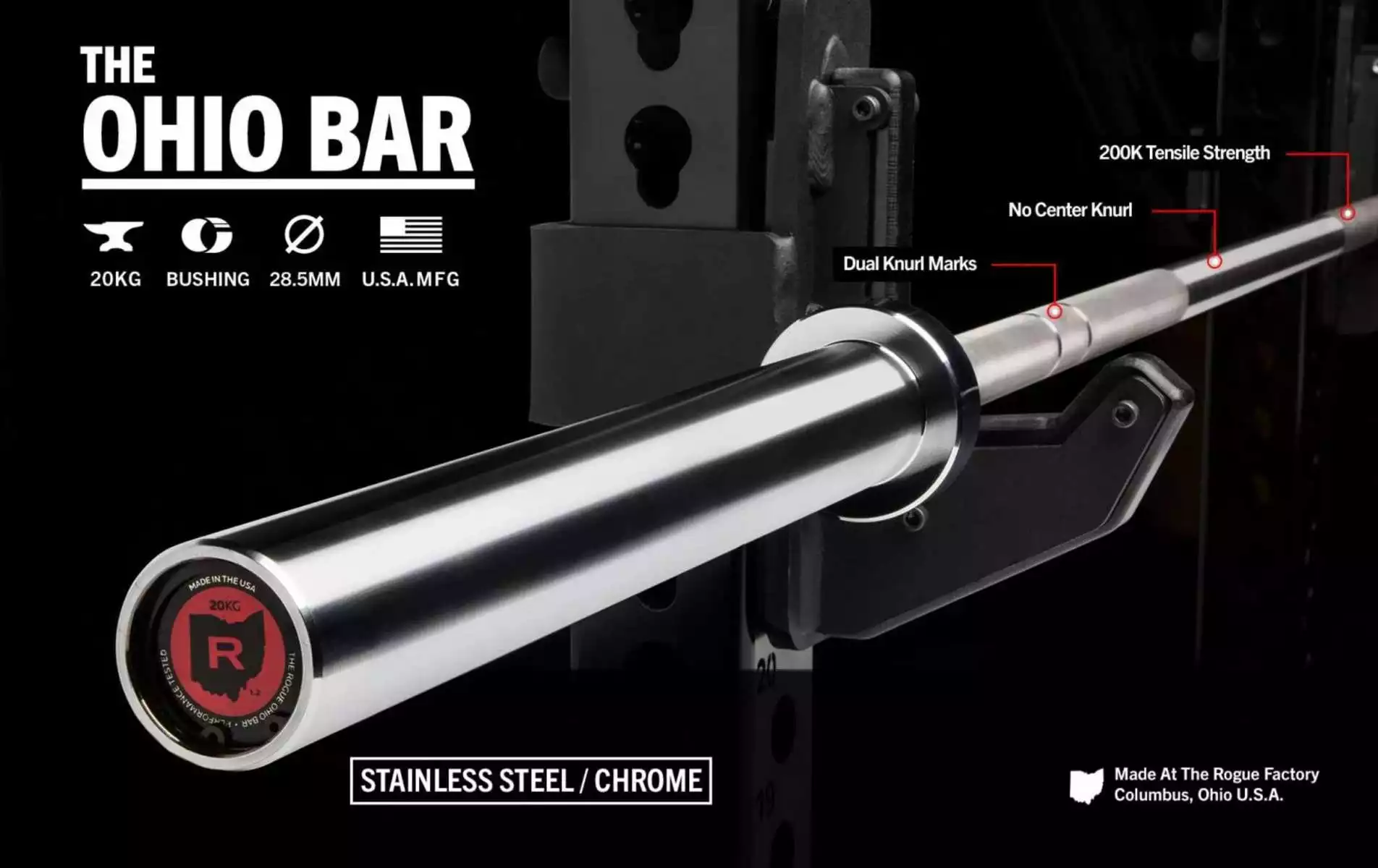 The Ohio Bar – Stainless Steel
Made in the USA, The Ohio Bar is a top-of-the-line, multipurpose barbell. It's constructed of the highest quality materials with a 200,000 PSI shaft and chrome sleeves for a consistent spin. The Ohio Bar has a firm, non-abrasive grip and is perfect for both Powerlifting and Olympic lifts. With its unique balance of whip and rigidity, this bar is ideal for any serious lifter.
CLICK FOR BEST PRICE
This is very similar to the Stainless Steel Rogue Ohio Power Bar. However, it's built for both Olympic lifting and powerlifting since it's a hybrid bar.
This gives it a solid grip, a nice blend of whip and stiffness, and the sleeves spin consistently.
If you want the best multipurpose bar that Rogue Fitness has, this is the one that you want to get.
Safety Squat Bar – SB-1 Safety Squat Bar
Best Rogue Safety Squat Bar
SB-1 – Rogue Safety Squat Bar
The weight distribution is unique to this bar. Training with the Rogue Safety Squat bar is known to tax your anterior chain; the weight distribution falls between the front squat and the high-bar back squat to vary your power output training. This bar is a safer option for intense squat progressions or maximum load lifts.This bar is known to increase your maximum working weight when compared to the traditional back squat.
CLICK FOR BEST PRICE
First up is the Rogue Fitness Safety Squat Bar. As explained in my Titan Fitness buying guide, Safety Squats are an awesome variation of the Barbell Squat.
They work your mid-back and core a lot harder than a straight bar as the camber on the bar is basically trying to crush you into the ground.
It's also a lot easier on your shoulders and back as the foam pads and handles allow you to keep your arms in a neutral position in front of your body.
For people that have jacked up shoulders, this is a great thing and something that the Rogue Fitness Safety Squat Bar allows you to work around.
This bar is rated for 1,000 lbs and makes it easy to set up, unrack the bar, and just get stronger at the squat.
RELATED – Rogue vs EliteFTS Safety Squat Bar
Trap Bar – TB-2 Trap Bar
Best Rogue Trap Bar
Rogue TB-2 Trap Bar
Introducing the Rogue TB-2 Trap Bar - a versatile and efficient upgrade from the original Rogue Trap Bar. With dual handles, knurled grips, and SCH 80 pipe Olympic sleeves, this USA-manufactured bar is built to last. Its 25% weight reduction makes it perfect for beginners or those recovering from an injury. Whether you want to strengthen your lockout or limit shoulder stress, the TB-2 Trap Bar is the perfect addition to any strength training routine.
CLICK FOR BEST PRICE
FULL REVIEW
Here is the full review of the Rogue Fitness TB-2 Trap Bar if you're interested in learning more!
The Trap Bar Deadlift is my favorite version of the Deadlift you can do, right along with the Romanian Deadlift, of course.
It's definitely superior for beginners and taller lifters as it allows you to set up quickly and get stronger pulling from the floor without over-correcting your positioning every rep.
The TB-2 Trap Bar is fantastic with its high and low handles, which allow taller lifters to Deadlift from a more comfortable position.
This bar also has really solid knurling that won't destroy your hands as crappier Amazon Trap Bars have.
I've used a crappy Trap Bar for some time, so I know what I'm talking about.
This thing feels great and is an absolute tank.
Multi-Grip Bars – Rogue MG-3 Multi-Grip Bar
Best Rogue Multi-Grip Bar
Rogue MG-3 Multi Grip Bar
Unlike some Swiss or football barbells, all of Rogue's Multi-Grip Bars are rackable on standard power racks and compatible with Olympic plates. This type of bar can be greatly beneficial in reducing stress on the wrists and shoulders during press movements, as well as strengthening the triceps for better lockouts.
CLICK FOR BEST PRICE
Rogue Fitness has a couple of different Multi-Grip Bars, but I like this one the best by far.
The great thing about Multi-Grip, or Football bars as they're sometimes called, is that they allow people with banged up shoulders to press pain-free.
By pressing with a neutral grip, you can press without externally rotating your shoulders.
This is great for overhead press and bench press variations that really hammer the triceps a lot more than a straight bar.
Also, unlike many other Swiss, football, and multi-grip barbells out there, all of Rogue's are rackable on Power Racks.
There's a lot out there that you can't actually rack, which doesn't make much sense.
This bar is also finished with Rogues black powder coat, so it looks beautiful and performs great as well.
Best Flat – Monster Utility Bench 2.0
Best Rogue Flat Bench
Monster Utility Bench 2.0
Manufactured in Columbus, Ohio, using 3x3" 11-gauge steel, the newly redesigned Rogue Monster Utility Bench combines the stability of an extra wide 26.5" rear base with a new single-column front foot, giving athletes more room for setting their feet during a bench press.
CLICK FOR BEST PRICE
Many benches out there aren't made with 3×3″ 11-gauge steel; the Monster Utility Bench 2.0 isn't one of them.
This is the most stable bench you're going to get at one of the best prices possibles.
It also has an extra-wide rear base for much greater stability with a single front foot. This allows you to set up your feet better for bench press variations.
This bench also has a set of wheels with a built-in handle to quickly move the bench wherever you need it to go.
This bench even has a couple of variations to it that you can choose from while ordering.
You can pick different bench heights, pad widths, and even select a stainless steel handle if you're super basic.
If you want the best possible stability and durability, this is the best bench you're going to get for the price.
Best Adjustable – Adjustable Bench 3.0
Best Rogue Adjustable Bench
Rogues' newer bench, the Adjustable Bench 3.0, is a solid upgrade and one that I highly recommend!
It has an upgraded 11-gauge steel 3×3″ frame, 10 back and 3 seat positions, and a small 1″ gap between the pads.
There are two different versions you can pick from as well.
Standard

Black Powder Coat Adjustment Rails
Three Gloss Frame Finishes – MG Black, MG Rogue Red, or MG Bright Blue
Standard Bench wheels

Stainless

Upgraded stainless steel rails
Same gloss frame finishes as the standard option
Premium Rubber wheels for easier portability and better durability
You can also upgrade to a premium textured foam pad that allows for even better grip than their standard vinyl.
The Adjustable Bench 3.0 is definitely an awesome upgrade over the second version and I highly recommend it!
Best – Rogue Dumbbell Sets
Best Rogue Dumbbells
Rogue Dumbbells
Rogue Dumbbells are sold in pairs and available in weights ranging from 2.5LB to 125LB. This standard rubber hex design is a great, budget-priced option that still delivers on quality, performance, and longevity. The heavy-duty, rubber-encased heads minimize noise and limit wear and tear (to both the bells and your flooring), while the chrome-plated handle is ergonomically designed for a firm but comfortable feel in any grip style.
CLICK FOR BEST PRICE
Between the Hex and Urethane dumbbells, the Hex dumbbells are definitely a better buy considering all the money you'll save.
I just don't think it's worth the investment between the two. After all, the Hex dumbbells are almost $1,000 less for the 5-50 lb set.
That's a huge saving and doesn't make much sense considering they're basically the exact same thing.
Nothing is worth that $1,000 extra, so I would definitely go with the Rubber Hex Dumbbell Set.
Best – Rogue Competition Kettlebells
Best Rogue Kettlebells
Rogue Competition Kettlebells
Rogue's Competition Kettlebells rank with the best in the industry when it comes to performance, durability, stability, and feel. Ranging from 8KG to 48KG in weight, every increment of the Competition Kettlebell retains the same 5.5" base diameter, 11.1" height (282MM), and 33MM handle width, allowing for easier transitions as you move up in weight. Each bell also includes a smooth, blemish-free surface with a matte black powdercoat finish and four specially contoured flats—reducing friction and discomfort during overhead presses, cleans, and snatches.
CLICK FOR BEST PRICE
The Rogue Fitness Competition Kettlebells are incredible when it comes to their performance and feel.
These range from 8KG-48KG, or 18-105 lbs.
Regardless of the size, they have the same diameter base, height, and handle width which is nice!
They also feature a smooth powder coat with special contours cut out of them near the top of the bell.
This helps with discomfort when doing cleans, presses, and snatches, which is an awesome benefit.
These are priced at a little less than $3 per lb, which is pretty great considering the Rogue Fitness quality you get with these.
Best – RM-6 Monster Rack 2.0
Best Rogue Power Rack
Rogue RM-6 Monster Rack 2.0
Upgrade your home gym with the Rogue RM-6 Monster Rack 2.0. This sturdy equipment is built from 3x3" 11 gauge steel and features 1" hardware with a choice of black or bright zinc finishes. With customization options for crossmembers, pull-up bars, J-hooks, and safeties, plus compatibility with over 50 different Monster attachment options, you can create the perfect workout experience. Available in 11 custom colors and with 90", 100", or 108" upright options, the RM-6 Monster Rack 2.0 is a durable and versatile addition to any home gym.
CLICK FOR BEST PRICE
The RM-6 Monster Rack 2.0 is an absolute monster, as the name suggests.
It also has a ton of different customizations depending on what you need.
You can pick different colors, hardware finishes, pull-up bars, styles of J-cups, safeties, and more!
It's made from 3×3″ 11-gauge steel like a lot of Rogues racks but it also has oversized 1″ hardware to bolt everything together.
If you want the absolute best-valued rack that Rogue Fitness has to offer with the best customization options, the RM-6 Monster Rack is what you want to get.
Best Bumper – Rogue Training 2.0 Plates
Best Rogue Bumper Plates
Rogue Color LB Training 2.0 Plates
Updated with new artwork and a gloss-matte-gloss finish, Rogue Color LB Training 2.0 Plates are an IWF standard 450MM in diameter, with a narrow width that allows for more weight to be loaded on the bar. A 50.40MM collar opening and steel disc insert keep the plates firmly in place even during intense, high-rep training.
CLICK FOR BEST PRICE
The best bumper plates that Rogue Fitness makes are the Training 2.0 Plates.
These plates are color-coded and used in Reebok's CrossFit Games.
They have a minimal bounce while dropping them, and unlike crappier plates out there, they aren't going to break down from frequent use.
These are a little more expensive than other plates out there. However, they're still pretty affordable if you just want a basic set that will literally last you ten lifetimes.
You can get these plates individually or in sets, and Rogue Fitness even offers free shipping on them, which is a huge saving without a doubt.
Best Iron – Rogue Olympic Plates
Best Rogue Iron Plates
Rogue Olympic Plates
Nothing replicates the sound of old school steel plates being lifted in a gym. Rogue Black Olympic Plates are simple, classic, and tough enough for daily abuse. Sold in pairs, these time-tested cast iron weightlifting plates range from 1.25LB up to 100LB, with custom orders available to equip your affiliate or home gym as you see fit.
CLICK FOR BEST PRICE
Last up, we have Rogue's best iron plate option, their Olympic Plates.
These are sold in pairs ranging from 1.25 to 100 lbs and are priced really well!
These plates are under $2 per lb, which is an incredible deal considering just how much they've been inflated this year.
Conclusion
What do you think of the best equipment that Rogue Fitness brings to the table?
Let me know in the comments below what you plan on getting for your home gym!
Until next time,
-Dante