Looking for the best adjustable dumbbells? You're in the right place!
In this article, we'll list our top picks for the best adjustable dumbbell sets on the market today.
We'll also give you an overview of what to look for when choosing an adjustable dumbbell, and explain why they're such a valuable addition to your home gym.
If you're interested in getting the best adjustable dumbbells for your home gym, let's get started!
What Are The Best Adjustable Dumbbells?
Best Overall Adjustable Dumbbells – PowerBlock Elite Series Adjustable Dumbbell
Best Overall Adjustable Dumbbell
POWERBLOCK Elite Adjustable Dumbbells
The PowerBlock Elite Adjustable Dumbbells are the perfect way to replace an entire set of dumbbells. With a weight range of 5-50 lbs per hand, these adjustable dumbbells can grow with your needs, expanding to 70 lbs and again to 90 lbs. The auto-lock handle feature and chrome adder weights make for micro-load weight adjustments in 2.5 lb increments. Plus, the side rails with color bands make for easy weight selections. The welded steel construction and powder-coated paint make these weights a durable option for any home gym.
Learn More
Recommended for those that want the best adjustable dumbbells overall
Incredibly durable, heavy-duty steel construction.
Heavy weights up to 90 lbs per dumbbell with add-on kits for maximum versatility.
Weight range from 2.5 to 5-pound increments.
Price per lb of weight is incredibly competitive compared to competitors.
The shape of this pair of adjustable dumbbells can be a little cumbersome for some lifters.
There are reports of a 20% restocking fee which is pretty steep.
I've found the caged handle to be a little uncomfortable for specific movements.
Removing the cylinder weights can be a pain, and you can only use multiples of 5, 7.5, and 10. There are no weight options for 2.5, 12.5, 22.5, etc.
PowerBlock has been in the game as long as I have, so they definitely have an excellent track record with thousands of happy customers.
When I was looking into the best adjustable dumbbell sets for my home gym, there were a few criteria I was looking for.
First, I wanted them to be super quick to change. At times, I have multiple people in my gym, so being forced to use loadable or spinlock dumbbells can get pretty hectic fast.
Plus, you have a bunch of extra change weights everywhere that you have to clean up and try not to trip over in between sets. They just weren't a good option, and when you need to add a bunch of weight plates, they're just too cumbersome.
That's when I discovered the PowerBlock Elite Adjustable Dumbbells. They're easy to change the weight options with their magnetic selector pin for 10 lb weight jumps.
You slide the pin out, use the color coding to determine the weight, slide it in, and you're ready to lift.
These even have 2.5 to 5-pound increments which commercial gyms and pretty much every other adjustable dumbbell don't allow for.
They take a little longer to adjust as you have to remove the selector pin, take out the handle, remove the 2.5-5 lb micro cylinders weights that are housed in the handle, and then replace the pins.
But after a while, you get used to the changes, and it doesn't take too much time. Is it faster than other quick-lock dumbbells like Nuobell? No, not even close, but PowerBlocks have more going for them, as you'll soon see!
PowerBlock handles are a little awkward for exercises other than basic presses, extensions, curls, lunges, and rows.
If you try to do something like Goblet Squats in your strength training program, there isn't really any place you can hold onto them that well.
The second thing I needed in an adjustable dumbbell system was heavy weight options! A 5-50 lb weight set of adjustable dumbbells aren't going to cut it for my clients and me.
Naturally, I went for the 5-50 lb Stage 1 Weight Set, but they also offer two expansions to increase this further.
The Stage 2 weight kit increases the weight range from 50-70 lbs of weight, and the stage 3 weights kit pushes it to 70-90 lbs per dumbbell.
You don't have to get all the expansion kits at once; you can start with the base dumbbell set and invest in more weight options when you need them.
The only negative thing I have to say about the PowerBlocks weight selection is that you can only increase in multiples of 5, 7.5, and 10.
Because the handle weighs 5 lbs with no weight cylinders, you can only go from 5, 7.5, and 10; and skip 12.5 to 15 lb weights. If they corrected this in the future with newer models, I wouldn't have any complaints whatsoever.
The final thing I needed to be sure of when investing in adjustable dumbbell sets was the durability.
You can get faster adjusting dumbbells which will save you a ton of time. However, you're going to have issues with how long they will last.
Many quick adjustable dumbbells are constructed of less durable materials like plastic.
If you accidentally drop them or, let's face it, throw them after a set of dumbbell bench pressing, there's a good chance they're not going to handle the abuse.
I prefer to buy the highest quality equipment I can once; that way, I don't have to pay more down the line to replace it.
And PowerBlocks are by far the most durable and best adjustable dumbbell sets on the market.
The free weights are constructed entirely of heavy-duty steel; the selector pin is magnetic polypropylene which is extremely durable even though it's plastic.
It won't rust or wear away over time and can handle a maximum weight of 500 lbs with no issues.
The handle is made of durable, hard plastic that I've never had a single issue with.
If you want the absolute best adjustable dumbbells, the PowerBlock Elite Dumbbells are what I recommend.
Best Quick Change Adjustable Dumbbells – NÜOBELL Adjustable Dumbbell Set
Best Quick Change Adjustable Dumbbell
NÜOBELL 80LB CLASSIC
The NÜOBELL 80LB CLASSIC is the smartest adjustable dumbbell on the market. These all-in-one, quick-change dumbbells are constructed with real, machined steel plates. Plus, they're incredibly simple to use. Just twist the handle to make your desired weight adjustment and that's it. The NÜOBELL comes with two portable cradles for easy storage and has a 2-year warranty, making these the best option for home gym owners with limited space.
Learn More
Recommended for those that want the best adjustable dumbbells with the fastest-changing design and heavy weight options.
You can change weight in seconds.
Supports a weight range from 5 to 80 lbs of weight per dumbbell which is hard to beat for quick-change dumbbells.
Because of its design, it feels similar to a fixed dumbbell for the best strength training performance.
It is constructed with a decent amount of plastic, so the durability might be affected.
They are pretty pricey at $595-$775 for their 50 or 80 lb weight models.
These are only available in 50 and 80-lb weight models and there's no way to increase this.
If you like to throw dumbbells around, you might find these aren't going to hold up to all of the abuse.
The smrtft NÜOBELL Adjustable Dumbbells are the fastest-changing, best adjustable dumbbells on the market.
They have the quickest adjustment mechanism to change from the 5 to 80 lb weight range in moments.
If you want to change weights as quickly as possible, these are your best option.
Many of you might be second-guessing these due to the plastic they're constructed from, but they really are very well made. Plus, if you want dumbbells that are actually shaped like dumbbells for a natural feel while strength training, these are perfect!
This makes them better for those interested in the feeling of fixed dumbbells. Another incredible benefit to the NUOBELL system is that they feature an aggressive knurled finish for maximum grip.
Many other adjustable dumbbells use more contoured handles with hard foam or even rubber grips. Kind of like PowerBlocks which are still really comfortable to work with, but knurled finishes will always be superior.
Considering all you have to do to adjust the weight on these is to place them in the cradle, twist the handle to your desired weight and start lifting, you aren't going to find quick-change dumbbells better than these.
Sure, they are constructed of mostly plastic, so you shouldn't be dropping them, and the maximum weight is only 80 lbs of weight per dumbbell.
But if you want the best adjustable dumbbells with the quickest changes possible, NUOBELL is what you should get.
Best Loadable Dumbbells – The Dumbler Gungnir
Best Loadable Dumbbell
The Dumbler - Olympic Loadable Dumbbell
The Dumbler is the perfect adjustable dumbbell for your home gym. The main innovation of the Dumbler is its titanium SlideLock system which completely removes the need for collars. With a medium to aggressive knurl and an electroless nickel sleeve coating, it's built to last. The Dumbler has a stainless steel handle with bronze bushings in the sleeves to keep it moving smoothly and it can be loaded with up to 264 lbs of weight.
Learn More
Recommended for those that want the best adjustable dumbbells with the most premium safety mechanism and finish.
The Titanium SlideLock completely eliminates the need for collars.
Fully knurled handles for maximum grip.
Bronze Bushings allow for a smooth spin for dumbbell cleans and snatches.
The build quality is exceptional and will feel much more like a barbell than other dumbbell options.
Compared to other handles, its sleeves are not quite as long.
At the same time, the dumbbell size and longer handles can get in the way while training.
The SlideLock system allows for some wiggle room and more noise than you might want.
Pretty pricey at $499.
These loadable dumbbells, dubbed "The Dumbler" for Gungnir of Norway, are the most premium and best adjustable dumbbell option available.
Gungnir has some incredible ideas for their barbells and dumbbells using their "SlideLock technology. These eliminate the need for collars and make loading/unloading weights even faster.
Putting this to work for their Dumbler handles was an excellent idea, and it fixes a lot of the problems that typical dumbbell handles have, mainly the speed of switching weights.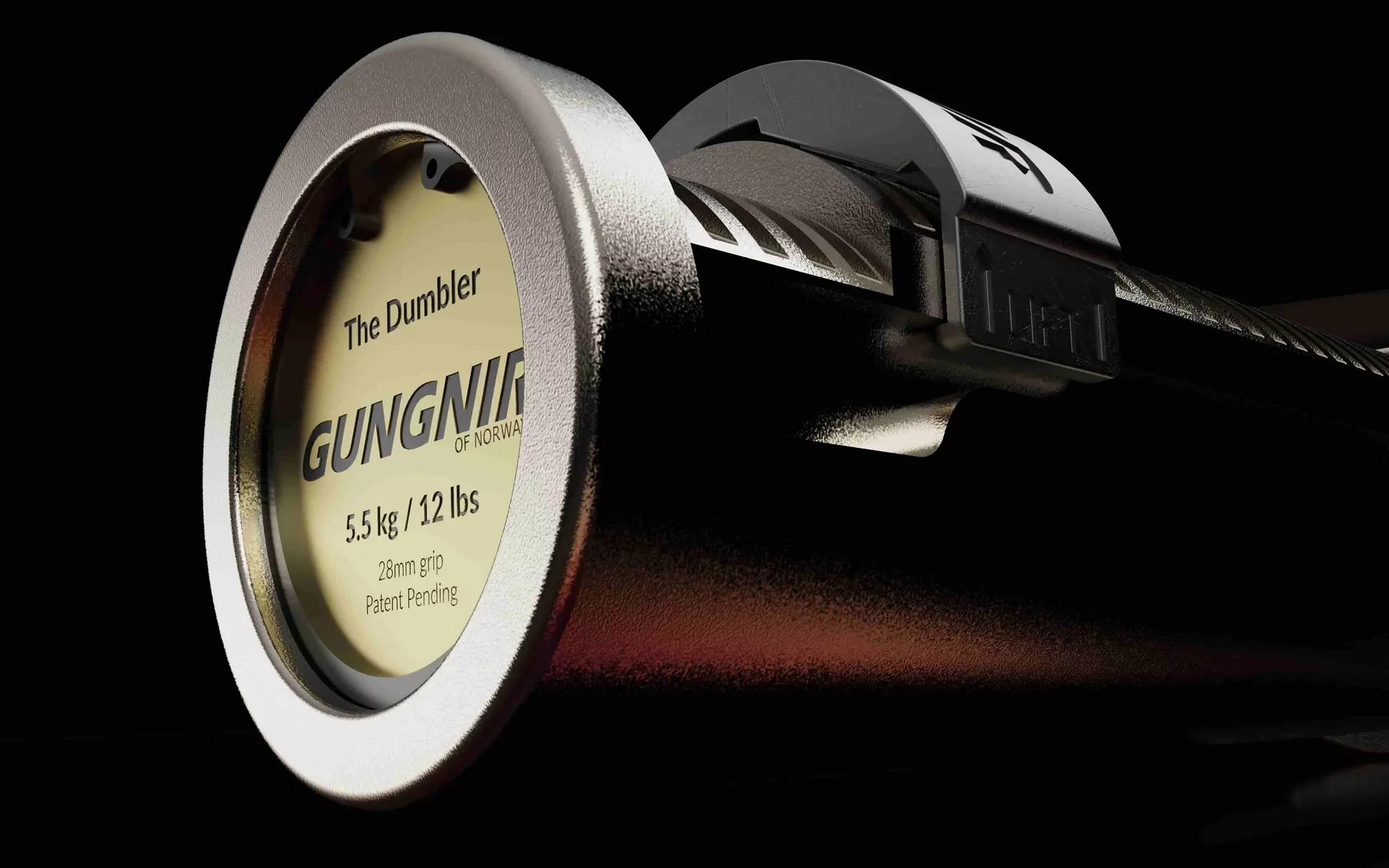 The SlideLocks design is pretty fascinating; it is constructed of a piece of titanium that has been precision-machined to slide along the Dumblers sleeve and lock into place.
The sleeves have machined grooves that allow the SlideLock to slide and lock into place. See what I did there?
Plus, a heavy-duty magnet is built into the clip, so they will never budge.
Speaking of the sleeves, they measure 6.25-inches with a 4.25″ loadable sleeve length.
Plus they have that same standard 1.96-inch Olympic bar diameter. That's the best part of loadable dumbbells; after all, use the weights you already own instead of buying more.
If you're curious how much a standard Olympic bar weighs as well, check out this guide here!
From the testing done by others, it seems you can load the Dumbler up with over 80 lbs of weight per dumbbell with regular-sized weight plates. If you want to go much higher, you're most likely going to have to start throwing some 25s on there to get the right load.
The Dumblers handles have a moderate depth knurling featured on regular dumbbells.
However, one major distinction is that these handles are stainless steel, which provides the greatest protection to your adjustable dumbbells while also maintaining the feel of the knurling while strength training.
Along with the bronze bushings in the sleeves and the 28 mm handles, the Dumbler is the perfect choice for snatches, cleans, and other dumbbell Olympic weightlifting movements.
The only real issue with these handles is that they'll always take longer to load. The SlideLock mitigates this slightly as it allows for faster adjustments than a standard collar.
The other issue is they're a great deal longer than other adjustable dumbbells. No matter how much weight you have on them, the total length will always be 18.42". This can get in the way of the most basic movements. But for some, it might not be that big of a deal.
The Gungnir Dumblers is for those that want the absolute best adjustable dumbbells with loadable handles regardless of the cost. Their build quality, SlideLock system, and overall performance with the stainless steel build; are worth it if you can swing it.
If you want the absolute best loadable dumbbells, the Dumblers from Gungnir are highly recommended.
Best Budget Adjustable Dumbbells – Bowflex SelectTech 552 Adjustable Dumbbells
Best Budget Adjustable Dumbbell
Bowflex SelectTech 552 Adjustable Dumbbells
5 - 52.5 lbs per Adjustable Dumbbell - Functional, full-body strength for your legs, back, chest, abs, shoulders and arms.
Easy-to-Use Selection Dials - Easily adjust from one exercise to the next.
Storage Trays Included - Stay organized with intuitive storage trays that keep your weights off the floor.
Learn More
Recommended for those that want the best adjustable dumbbells on a budget
Can adjust the weight on these from 5 to 52.5 pounds weight range, the first 25 of which can be adjusted by 2.5-lb weight increments and 5 pound increments beyond that.
For a budget option, they're incredibly fast to change weight selections.
Very affordable even though the price has been raised in recent years.
The max weight options on these is only 52.5 pounds, with no way to upgrade them.
No matter what weight you start with, the width of these will remain the same.
These are not meant to be dropped, so the durability is questionable.
The Bowflex SelectTech 552 adjustable dumbbells are the most well-known adjustable dumbbells on the market.
Luckily, Bowflex has a solid track record with their products, which definitely factors into so many people recommending them.
This is one of the most compact and lightweight adjustable dumbbells that are highly recommended.
The Bowflex SelectTech 552 adjustable dumbbells offer users a weight range from 4 to 55 pounds.
The SelectTech Series, as Bowflex calls it, is centered around their dial system placed on both ends of each dumbbell.
These dials can change your weight selection incredibly quickly and reliably. The only faster mechanism is the NUOBELL's, but it's hard to beat turning a handle for adjustments.
One of my favorite features about these is the 2.5 pound increments and weight options up to 25 lbs per dumbbell.
These lighter weights are usually where people have the most issue progressively overloading. Having the ability to micro load your weights up to 25 lbs is a great addition to these.
However, these Bowflex SelectTech 552 Adjustable Dumbbells aren't without their problems.
The durability on these is definitely lacking as they have "DO NOT DROP" on the side of the dumbbells.
I personally don't believe you should be dropping dumbbells anyways, so if you like throwing them down after a set of 1" range of motion dumbbell benching, you've been warned.
Another major issue with these is the dumbbell size. No matter how much weight you use, the width of the handle will be the same.
That means 5 lbs will be just as wide as 52.5 pounds. This can be very unwieldy with certain exercises, as you're most likely going to have to shorten your range of motion at times.
The final issue I have is you can only adjust the weight on these up to 52.5 pounds. This is fine for a beginner lifter, but I know many of you will need heavier weights over time. Being forced to upgrade everything to a different set is a pain.
All in all, though, if you want the fastest-changing budget dumbbell, the Bowflex SelectTech 552 dumbbells are what I recommend.
Best Adjustable Dumbbells For Heavy Lifters – Ironmaster Quick-Lock Set
Our Pick
Ironmaster Adjustable Dumbbell System
The Ironmaster Quick-Lock Dumbbell System is the latest generation of our adjustable dumbbells – now available in a smaller size set. You can quickly adjust each dumbbell from 5-45 lbs with our patented quick lock design in under 15 seconds!
Buy Now
Recommended for those that want the best adjustable dumbbells for heavy strength training
These are the heaviest and best adjustable dumbbells you can get with 165 lbs per dumbbell for the full configuration.
These look and feel just like traditional dumbbells for the best performance while strength training.
The handles are chrome plated with fully knurled grips.
Lifetime warranty so you never have to worry about getting them replaced.
Ironmasters are constructed entirely of solid steel and have no plastic components.
Endcaps are completely flat so you can rest them on your thighs.
The square shape of the weight plates and handle prevent them from rolling on uneven surfaces as a typical garage gym has.
These are very expensive even compared to quicker-locking adjustable dumbbells like the NUOBELLs.
Ironmasters are slower to change than dial or pin adjustable dumbbells mechanisms.
You're going to have to do some dumbbell math to select your free weights, unlike other adjustable dumbbells that have easy readouts.
If you decide to get the full set, the full dumbbell size measures out to 23.5-inches long; which can definitely be awkward to lift for most.
Ironmaster adjustable dumbbells are the heaviest and highest quality dumbbell set on the market. They provide that traditional dumbbell feeling while strength training and you can adjust the weights up to 165 lbs with multiple add-on kits.
They're constructed entirely of steel and iron, which is definitely a huge plus as other dumbbell systems have some plastic construction. This makes them much more durable and their lifetime warranty is proof of that.
Naturally, this makes them very expensive if you want the entire configuration with the available add-ons Ironmaster offers.
Here's a rundown of what you need for the weight range from a standard 45 lb set up to 165 lbs per dumbbell.
It's worth noting that each handle is 5 lbs, while the locking screws are 2.5 lbs each. Fully assembled the handle + endcaps weigh in at 10 lbs.
45 lb Weights Set – 12, 5 lb weight plates + 4, 2.5 lb weight plates – $519
75 lb Upgrade Weights Kit – 12, 5 lb weight plates – $199
120 lb Add-On Weights Kit – 4, 22.5 lb weight plates – $399
165 lb Add-On Weights Kit – 4, 22.5 lb weight plates – $399
Total Price for 165 lb set of weights – $1518
However, if you compare this to an entire set of hex dumbbells from a weight range of 5-165 lbs per dumbbell, it's thousands of dollars cheaper and saves a ton of space in your home gym as well.
So sure, while they might cost significantly more than typical adjustable dumbbells, those other sets can't adjust past 100 lbs of weight, let alone up to 165 lbs per dumbbell!
Ironmaster adjustable dumbbells have chrome-plated, knurled handles for a solid grip. The only issue with them is that the dumbbell size is a little longer than they need to be.
They kind of have to be for the quick-lock system to screw in without touching each other in the center of the handle.
The quick-lock system might not be as fast as PowerBlocks or NUOBELLs, but they're still much faster and more secure than any spin-lock handles.
Instead of being forced to spin the lock forever like typical systems, these have a super-smart grooved rod.
You slide it out, add your weights (which are precision machined to stack perfectly I might add), slide it back in, hand tighten the locking screw, and you're set. Simple and clean.
My final gripe with these, which really can't be helped, is how long the handle is fully loaded.
They measure out to 23.5-inches which is actually pretty good considering how heavy they are maxed out!
This can definitely be awkward to lift just like any dumbbells this heavy and there isn't anything you can do about it.
If you want the absolute best adjustable dumbbells for heavy lifters, I recommend the Ironmaster dumbbells over anything else.
Best Spinlock Adjustable Dumbbells – Pepin Adjustable Dumbbells
Best Spinlock Adjustable Dumbbell
Pepin Adjustable Dumbbells
Pepin Adjustable Dumbbells are high-quality handles that can be adjusted to your desired weight. With an engraved logo and durable powder coat finish, these dumbbells are made to last. These are offered in two different handle types, nickel plating or E-coat. You can load these up with standard weight plates up to 120lbs per handle. Making these adjustable dumbbells one of the heaviest options on the market.
Learn More
Recommended for those that want the best adjustable dumbbells with the highest weight capacity & performance
Fully knurled handle with e-coat and nickel plating options.
Massive weight range from 5 lbs up to 130 lbs weights per dumbbell
End caps are wide and flat so you can rest them on your legs when getting into position.
Just like other spinlock adjustable dumbbells, they do take a decent amount of time to load up.
Similar to other adjustable dumbbells, it's recommended that you don't drop these as they do have the potential to break.
The weights that Pepin sells with these are very expensive per lb.
I was having a really hard time deciding if I wanted to recommend these. The main reason is because of just how expensive they are compared to even Ironmaster for slightly lower quality and weight capacity.
The Ironmaster adjustable dumbbells are around $1518 for the 165 lb set, while the full Pepin "270 lb set" (which can only hold 120 lbs of weight on each dumbbell, is around $1063.
They sell the full 5 to 120 lb adjustable handles with screws and no weights at around $330. That means you're paying almost $733 just for the weights which are around $3 per lb, for standard plates.
That is an enormous amount of money that I don't recommend spending. Sure, if you have a lot of standard weights lying around it's pretty cheap just for the handles and screws, which are super high quality.
For everybody else, you have to shell out a ton of money on weights, plus shipping. Pepin is based in Canada, so you're looking at around $315 for shipping, which is awful. If you just invest in the handles, you're looking at around $42 which isn't too bad.
So, here's the solution that I figured out, these handles can fit any standard plates, that much is obvious. Instead of shelling out for $3 per lb plates, just get some cheaper standard weights.
If you can't find any used on Facebook Marketplace or Craigslist, Amazon has these CAP Barbell cast iron standard plates. The 10s and 5s are priced around $1.50 per lb which is 50% of the price of the Pepin plates.
CAP Barbell Cast Iron 1-Inch Weight Plate
Made of solid cast iron and coated in a gray baked enamel finish to prevent chipping and peeling. Ground edges and machine center holes ensure a standardized product. These weights are available in 1. 25, 2. 5, 5, 7. 5, 10, 12. 5, 25, and 50 lbs.
CHECK PRICE
Plus, no matter how many of these plates you decide to get, the shipping is free. So you're going to save even more money overall!
The other awesome factor is that you don't have to buy them all at once, just buy enough free weights for the movements you need to do and upgrade when you need more.
If you go this route, I definitely think these Pepin adjustable dumbbells are worth it. Especially because the design and quality of these are better than any other spinlock dumbbells available.
They have solid medium depth knurling that isn't too passive or aggressive, can be loaded super heavy and the endcaps of the screws are wide and flat so they won't stab into your thighs while getting set up for dumbbell benching.
The Pepin adjustable dumbbells are an incredible option for garage gym owners that I highly recommend. Especially if you already have standard 1" plates, or decide to invest in just the Pepin handles and buy cheaper plates from other brands.
Other Adjustable Dumbbells Available On The Market
There are quite a few adjustable dumbbells on the market that didn't quite make the cut for this list.
However, that doesn't mean they're bad by any means!
Here are the top runner up options that just missed the cut!
Nordictrack Select-A-Weight Dumbbells
The Nordictrack Select-A-Weight dumbbell set offers a weight range between 10 and 55 pounds.
For some, this will be enough but it's just not enough for me to recommend them as much as the others in this guide.
The storage trays offered with them are a pretty nice addition and from what I can tell, they adjust like the Bowflex SelectTech series.
That means they're made of a decent amount of plastic so if you decide to pick them up, make sure you don't throw them down.
The final positive about these Nordictrack Select-A-Weight dumbbells is the price.
They're only $349 which is even more budget friendly than the Bowflex 552 Dumbbells.
These are definitely a good buy if you need something cheaper from a reputable company.
BaadAss Adjustable Dumbbells
These are very similar to the Pepin Dumbbells in both form and function. They're an upgraded spinlock design that has flush endcaps so you don't stab your thighs when setting up for dumbbell exercises.
The only real issue I have with them is the price. Just the handles with the standard 97.5 pound end posts costs around $330. However, if you have a bunch of standard weight plates laying around, this could be a good option.
One of the biggest reasons to buy these is the overall weight capacity. If you get some thin 12.5 pound plates like what they offer on their site, you can get their longest end post length and load each dumbbell up to 225 lbs of weight!
This is by far the heaviest dumbbell set on the market if this is true. Considering just how much weight you can add as well as the overall heavy duty build quality, I do recommend these for sure!
They're just expensive. That's the only real downside I can see.
If they could drop the price and keep the weight capacity and overall build quality high – these could be one of the best adjustable dumbbells by far!
Now that we covered the competition I do recommend, here are a few that I absolutely do not recommend whatsoever.
Flybird Adjustable Dumbbells
I don't care what all the big websites recommending these have to say. They're complete garbage.
The people reviewing the Flybird adjustable dumbbell set highly are not using them enough to see the serious flaws they have in their construction.
There are so many reports of these literally dropping weights on people while in use!
The small bits of plastic holding the weights in place is only around 1/4″ thick.
Some people newer to the gym buy these flybird adjustable dumbbells thinking they're a great deal and end up going to the ER from weights dropping on their head or face.
I urge you not to listen to anybody stating that this Flybird adjustable dumbbell set is any good.
They aren't safe and there are much better options that won't fail on you.
Core Home Fitness Adjustable Dumbbell Set
Just like the previous flybird adjustable dumbbells, the Core Home Fitness adjustable dumbbell set is bad…no sorry, they're even worse!
These will literally break from light usage and there are multiple reports of Core Home Fitness not responding to customers.
If they just broke from dropping them or mishandling them that might be fine, but the main reason the Core Home Fitness adjustable dumbbells continue to disappoint and cause injury is due to how the gear mechanism is attached to the handle.
Core Home Fitness attached it with FUCKING glue!
There are some things that might be a slight oversight by certain companies that they go on to fix in later versions.
However, they intentionally chose to use glue to hold together these Core Home Fitness adjustable dumbbells. That's all I need to know about them to never recommend anything they offer.
They don't care about their customers as evidenced by their poor customer service, and you know they don't stand behind their products because of that.
Do not trust big websites recommending these at all.
The Core Home Fitness adjustable dumbbells are junk and should not be treated like a legit product at all.
Also, do not give Core Home Fitness any of your money until they fix the obvious issues with these dumbbells.
People have been hurt and will continue to if we keep voting with our money that these are a good set of dumbbells. They are not.
Frequently Asked Questions
Conclusion
If you're looking for a quality adjustable dumbbell set, the options on this list are the best of the best.
These are some of the best adjustable dumbbells you can get that deliver quality and performance.
What is your favorite adjustable dumbbell?
Comment down below and let us know your thoughts!
Until next time,
-Dante