We Found The Best Adjustable Dumbbells In 2023
Hey, just so you know, some of the links in this post are affiliate links. That means if you click 'em and buy something, I get a little kickback, no extra cost to you. It's like buying me a protein shake without actually having to make the shake. Thanks for the support!
Adjustable dumbbells are one of the most important pieces of equipment you can get for your home gym.
I'll help you determine the best option for you in this comprehensive guide.
Let's get started!
What Are The Best Adjustable Dumbbells?
Best Overall – PowerBlock Elite Series Adjustable Dumbbell
Best Overall
POWERBLOCK Elite Adjustable Dumbbells
PowerBlock Elite Adjustable Dumbbells replace a full dumbbell set, ranging from 5-50 lbs per hand, expandable to 90 lbs. They feature an auto-lock and chrome adder weights for precise 2.5 lb adjustments. Easy selection is ensured with color-coded side rails. Their welded steel build and powder coat finish guarantee durability.

CLICK FOR BEST PRICE
We earn a commission if you make a purchase, at no additional cost to you.
Incredibly durable, heavy-duty steel construction.
Heavy weight range up to 90 lbs per dumbbell with add-on kits for maximum versatility.
Weight ranges from 2.5 to 5-pound increments.
The price per lb of weight is incredibly competitive compared to competitors.
The design of these dumbbells may be awkward for some.
There are reports of a 20% restocking fee which is pretty steep.
I've found the caged handle to be a little uncomfortable for certain movements.
Weight options are limited to multiples of 5, 7.5, and 10, with no increments of 2.5, 12.5, 22.5, etc.
PowerBlock's reputation is solid, with a legion of satisfied customers, including me. I've been lifting for years, and when I kit out my home gym, I'm all about efficiency and quality.
I zeroed in on PowerBlock Elite Adjustable Dumbbells for their swift weight change mechanism.
Their magnetic selector pin allows for quick 10 lb increments, a game-changer when you're cycling through clients or your own sets.
They offer smaller 2.5 to 5-pound increments too, which is rare.
Sure, they're not the quickest on the market—Nuobell has them beat there—but they make up for it in other areas.
The handle design is a bit quirky and might not suit every exercise, but for the staples like presses and curls, it's spot on.
I needed hefty weights, and PowerBlock delivered. Starting at a 5-50 lb range, they offer expansion kits that bump it up to 90 lbs.
You can scale up as needed, which is perfect for a growing home gym.
The weight increments could be more flexible—you're stuck with multiples of 5, 7.5, and 10 lbs, missing the 2.5 lb mark. It's a minor gripe, but worth noting.
Durability is where PowerBlock truly shines. While some brands opt for plastic, PowerBlock uses heavy-duty steel and a robust polypropylene selector pin.
They can take a beating and keep on ticking, supporting up to 500 lbs.
In short, if you're after top-tier adjustable dumbbells that can endure the rigors of serious training, PowerBlock Elites are my go-to recommendation.
They're a solid investment for any serious home gym.
Most Premium – Pepin FAST Adjustable Dumbbells
Most Premium
Pepin Fast Series Adjustable Dumbbells
The Pepin Fast Adjustable Dumbbells, crafted in Canada, offer a quick shift from 20 to 120lbs and are built with durable Canadian steel. At 17.5 inches long with volcano knurling for grip, they adjust in 5lb increments and have an optional heavy handle kit for added weight. They come with a lifetime warranty, ensuring quality and longevity.

CHECK PRICE
We earn a commission if you make a purchase, at no additional cost to you.
Available in 60, 80, 100, and 120 lb sets.
Volcano style knurling on the handles
5 lb increments are available
Incredibly compact at 17.5" long considering the max weight capacity is 120 lbs per dumbbell.
Lifetime warranty
The side rail adds overall stability and durability while also allowing for fast adjustments.
Not everybody will like the side rail design even if it doesn't get in the way like power blocks do.
The lowest weight limit is 20 lbs which are going to be too heavy for some movements and lifters in general.
Incredibly expensive and shipping for heavier sets doesn't help.
The Pepin Fast Adjustable Dumbbells are a standout for home gym owners.
They're a breeze to adjust, scaling from 20 to 120 lbs in 5 lb steps, marrying versatility with a space-saving build.
Crafted from solid Canadian steel, these dumbbells are in it for the long haul.
The volcano-style knurling on the handles provides a grip that's both secure and comfortable, and the side rail design adds a layer of stability that's hard to beat.
They mimic the feel of traditional dumbbells minus the clutter and cost. And with a lifetime warranty, they're not just a purchase; they're an investment in your fitness journey.
For those who crave more heft, there's an optional heavy handle kit that tacks on an extra 10 lbs per handle.
But quality comes at a cost, both in price and potential shipping fees for the heavier sets.
While the side rail design might not be everyone's cup of tea, it doesn't get in the way of your workout as some adjustable models can.
In essence, the Pepin Fast Adjustable Dumbbells are a premium pick for the home gym elite, offering a blend of convenience, adaptability, and enduring quality.
They're a compact solution to the traditional dumbbell set, designed for the discerning lifter.
Best Quick Change – Snode Adjustable Dumbbells
Best Quick Change
Snode Adjustable Dumbbells
The Snode Adjustable Dumbbells offer a robust home workout with a 32 inches
360-degree drop-proof build, crafted from full cast iron steel. They feature a solid one-piece plate design for maximum stability. Easily adjust between 10-80 lbs with eight quick-change gears. The one-piece handle and aluminum inner rod enhance durability, making them a top-quality choice for adjustable, safe weight training.

CHECK PRICE
We earn a commission if you make a purchase, at no additional cost to you.
Drop-resistant up to 32 inches
Aluminum inner rod for durability
Cast iron plates with secure locking
Quality mountain-style knurling for grip
Quick-change weight adjustment dial
Flat heads for a fixed dumbbell feel
Durable cast iron cradles
Very expensive
Max weight limited to 80 lbs
Longer design compared to some models
Weight adjusts in 10-lb increments, limiting progression options
The Snode Adjustable Dumbbells are a top-tier choice for home fitness buffs craving the flexibility of adjustable weights without skimping on quality.
Boasting a 360-degree drop-proof build, they promise durability and stability, ensuring they stand up to even the most vigorous sessions.
The swift-change dials make weight adjustments a breeze, while the aluminum core keeps these dumbbells going strong for the long haul.
With mountain-style knurling and electroplating, the grip is both superior and resistant to wear, offering a workout experience that's both comfortable and enduring.
However, the Snode Adjustable Dumbbells do come at a premium cost. The max weight caps at 80 lbs, which might not cut it for heavy lifters.
Their length is a tad more than other models, potentially an issue for space-conscious users. And with adjustments only in 10-lb increments, fine-tuning your lifts could be tricky.
Despite these points, for those prioritizing quality and safety in their home workout gear, the Snode Adjustable Dumbbells are a solid bet.
Best For Beginners – NÜOBELL Adjustable Dumbbells
Best For Beginners
NÜOBELL 80LB CLASSIC
The NÜOBELL 80LB CLASSIC stands out as the most intuitive adjustable dumbbell available. Crafted with genuine steel plates, these dumbbells offer a seamless weight change—simply twist the handle to adjust. Accompanied by two cradles for convenient storage and backed by a 2-year warranty, they're an ideal choice for home gyms with space constraints.

CLICK FOR BEST PRICE
We earn a commission if you make a purchase, at no additional cost to you.
You can change weight in seconds
Includes storage stand
Weight range: 5 to 80 lbs per dumbbell
Mimics traditional dumbbell feel
Partial plastic construction may affect durability
They're pretty pricey at between $595-$775
Limited to 50 and 80-lb models with no expansion
Not suitable for rough handling
The smrtft NÜOBELL Adjustable Dumbbells reign supreme for those seeking the pinnacle of speed in weight adjustment.
They boast the fastest mechanism on the market, zipping from 5 to 80 lbs in no time flat. For rapid weight changes, look no further.
Now, I know some of you might balk at the plastic build, but trust me, they're crafted with care and quality.
And for those who yearn for that classic dumbbell contour during their strength sessions, NÜOBELL hits the mark, mimicking the traditional fixed dumbbell feel.
What sets NÜOBELL apart is the aggressive knurling on the handles, ensuring your grip won't slip.
While other quick-change options might opt for foam or rubber, nothing beats the sure hold of a knurled grip.
To adjust, just dock them in their cradle, twist them to your chosen weight, and you're good to go. It's simplicity and efficiency at its best.
To adjust, just dock them in their cradle, twist them to your chosen weight, and you're good to go. It's simplicity and efficiency at its best.
Best Loadable – The Dumbler Gungnir
Best Loadable
The Dumbler - Olympic Loadable Dumbbell
The Dumbler revolutionizes the adjustable dumbbell with its titanium SlideLock system, making collars obsolete. It boasts a robust knurl for grip, a nickel-coated sleeve for durability, and a stainless steel handle with bronze bushings for seamless movement. Capable of accommodating up to 264 lbs, it's a powerhouse for your home workouts.

CLICK FOR BEST PRICE
We earn a commission if you make a purchase, at no additional cost to you.
Titanium SlideLock negates the need for collars
Fully knurled handles enhance grip
Bronze bushings ensure smooth rotation
Superior build quality offers a barbell-like experience
Sleeves are shorter than other models
Size and handle length may interfere with some exercises
SlideLock system may produce slight movement and noise
High price point at $499.
"The Dumbler" by Gungnir of Norway are the most beautiful loadable dumbbell handles, which is a true testament to their premium craftsmanship.
Gungnir's innovative "SlideLock technology" is a game-changer, making the need for traditional collars obsolete and speeding up the weight change process significantly.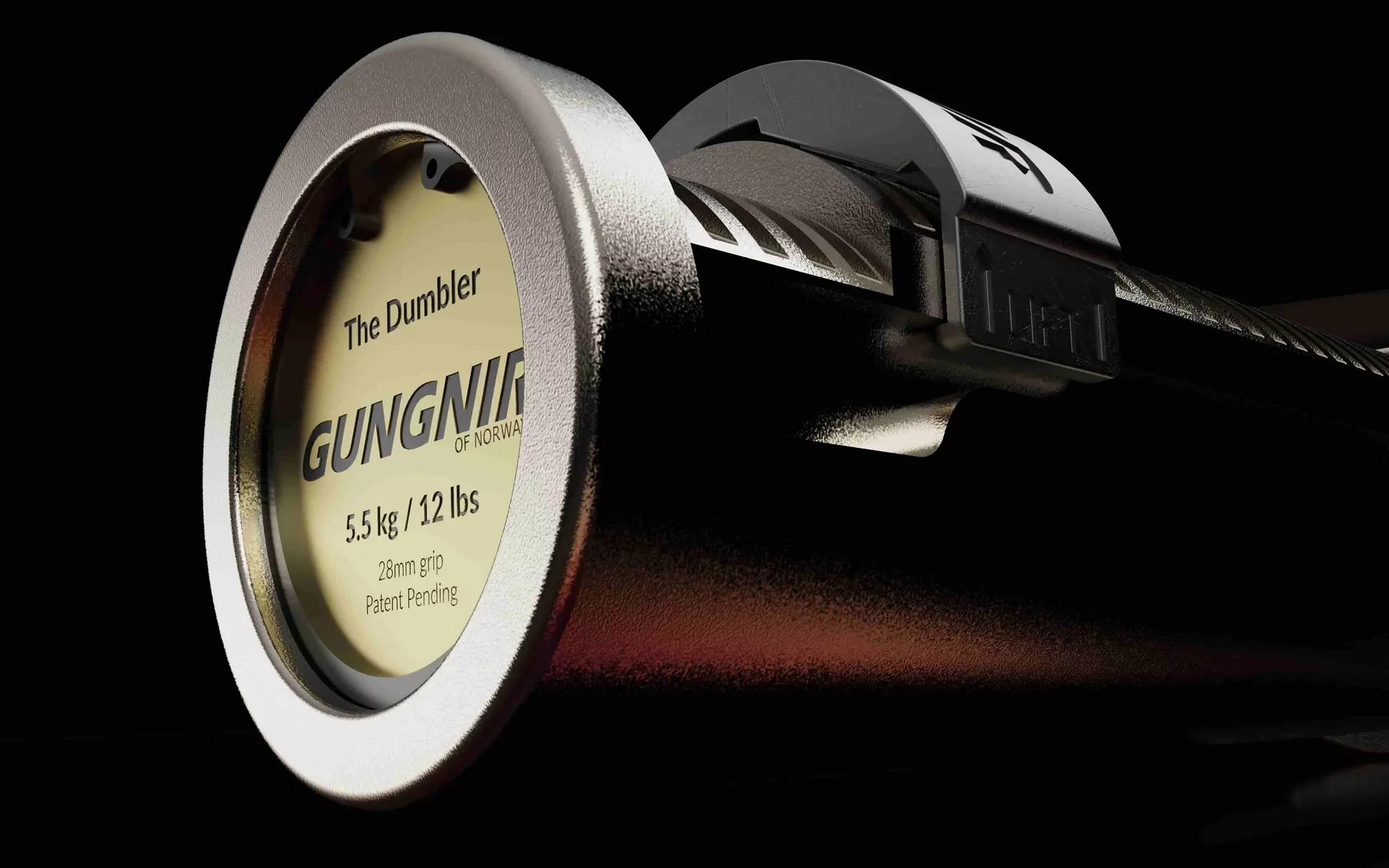 The SlideLock itself is a marvel, a titanium precision-engineered masterpiece that glides and secures itself along the dumbbell's sleeve. And with a robust magnet in the mix, it's steadfast.
The sleeves are generous, offering 6.25 inches in length with a 4.25″ loadable area, and they're designed to accommodate the weights you already own, thanks to their standard Olympic bar diameter.
In practice, you can load these beasts with over 80 lbs per dumbbell using standard plates. Want more? You might need to start stacking 25s to up the ante.
The Dumbler's handles are a cut above, featuring moderate knurling for a secure grip, and crafted from stainless steel for unmatched durability and a pristine feel.
They're equipped with bronze bushings and 28 mm handles, making them ideal for dynamic Olympic dumbbell lifts.
The SlideLock does offer a quicker adjustment than traditional collars, but let's be real—it's still going to take more time than other adjustable options.
And yes, they're long. At 18.42 inches, regardless of the weight, they might crowd your space during basic exercises. But for the purists, this might be a non-issue.
Gungnir's Dumblers are the pinnacle for those who demand the finest in adjustable dumbbell technology, no matter the price.
With their superior build, SlideLock system, and stainless steel integrity, they're a worthy investment for those who can afford the splurge.
For the ultimate in loadable dumbbells, Gungnir's Dumblers come with my highest recommendation.
Best Budget – Bowflex SelectTech 552 Adjustable Dumbbells
Best Budget
Bowflex SelectTech 552 Adjustable Dumbbells
Introducing the Bowflex SelectTech 552 Adjustable Dumbbells - the ultimate strength training solution. Each dumbbell adjusts from 5 to 52.5 lbs, providing versatile and functional workouts for your entire body. The easy-to-use selection dials allow for seamless transitions between exercises. Stay organized with the included storage trays, keeping your weights off the floor and your space tidy. Elevate your strength training with the Bowflex SelectTech 552 Adjustable Dumbbells today!
CLICK FOR BEST PRICE
We earn a commission if you make a purchase, at no additional cost to you.
Weight adjusts from 5 to 52.5 pounds, with 2.5-lb increments up to 25 pounds, then 5-lb increments
Quick weight change capability
Cost-effective despite price increases
Limited to a maximum of 52.5 pounds with no upgrade options
Width remains constant regardless of weight setting
Not designed for dropping; durability may be a concern
Bowflex's SelectTech 552 adjustable dumbbells are a household name in the fitness world, and for good reason.
Their reputation for quality is well-earned, which is why they're a go-to for many home gym owners.
Among the most user-friendly options out there, these dumbbells offer a weight range from 4 to 55 pounds, catering to a variety of strength levels.
The heart of the SelectTech design is the dial system at each end of the dumbbell, allowing for swift and seamless weight changes.
Only the NUOBELL's mechanism might edge them out for speed, but just barely.
A standout feature is the 2.5-pound increments available up to 25 pounds. This is ideal for those looking to make gradual progress, especially in the lower weight range.
However, it's not all sunshine with these dumbbells. They come with a stern "DO NOT DROP" warning, hinting at a potential compromise in durability.
I'm of the mind that dumbbells should be treated with care, not dropped post-lift. So, if you're prone to dropping your weights, consider this your heads-up.
The size of these dumbbells remains constant regardless of the weight, which can be cumbersome for certain exercises, potentially limiting your range of motion.
And while the 52.5-pound max weight is ample for beginners, more seasoned lifters will likely outgrow this limit, necessitating an upgrade.
Despite these points, for those seeking a quick-change, budget-friendly option, the Bowflex SelectTech 552s are a solid choice.
Best For Heavy Lifters – Ironmaster Quick-Lock Set
Best For Heavy Lifters
Ironmaster Adjustable Dumbbell System
The Ironmaster Quick-Lock Dumbbell System is the latest generation of our adjustable dumbbells – now available in a smaller size set. You can quickly adjust each dumbbell from 5-45 lbs with our patented quick lock design in under 15 seconds!
CLICK FOR BEST PRICE
We earn a commission if you make a purchase, at no additional cost to you.
Maximum weight of 165 lbs per dumbbell
Traditional dumbbell design and feel.
Chrome-plated, fully knurled handles
Lifetime warranty
Solid steel construction, no plastic parts
Flat endcaps for thigh support
Square plates prevent rolling
Pricier than other quick-lock options
Slower weight change compared to dial or pin systems
Requires calculation for weight selection
Full set length of 23.5 inches may be unwieldy
Ironmaster's adjustable dumbbells are a titan in the realm of strength training, offering a hefty max weight of 165 lbs when fully kitted out with add-ons.
They're a nod to the classic dumbbell experience, with a solid steel and iron construction that speaks volumes about their durability—backed by a lifetime warranty.
Yes, they're a premium investment. The full suite, from the base 45 lbs to the top-tier 165 lbs, will set you back $1,518.
But when you stack that against a full set of traditional hex dumbbells spanning the same weight range, the savings—in both dollars and space—are substantial.
The chrome-plated, knurled handles ensure a secure grip, though they are a tad longer than standard to accommodate the quick-lock system.
This system, while not as rapid as some competitors, is still a breeze compared to old-school spin-locks, thanks to its cleverly designed grooved rod.
Slide the rod out, stack your precision-machined weights, slide it back, tighten the lock, and you're good to go.
It's a straightforward process that's as efficient as it is elegant.
The only real downside? The length of the handle when fully loaded stretches to 23.5 inches, which can be cumbersome.
But for the serious lifter looking for a top-tier adjustable set, Ironmaster is the gold standard.
Best Spinlock – Pepin Adjustable Dumbbells
Best Spinlock
Pepin Adjustable Dumbbells
Pepin Adjustable Dumbbells are high-quality handles that can be adjusted to your desired weight. With an engraved logo and durable powder coat finish, these dumbbells are made to last. These are offered in two different handle types, nickel plating or E-coat. You can load these up with standard weight plates up to 120lbs per handle. Making these adjustable dumbbells one of the heaviest options on the market.
CLICK FOR BEST PRICE
We earn a commission if you make a purchase, at no additional cost to you.
Fully knurled handle with e-coat and nickel plating options
Massive weight range from 5 lbs up to 130 lbs weights per dumbbell
End caps are wide and flat so you can rest them on your legs when getting into position
Spinlock dumbbells take time to load
Not drop-friendly; potential to break
Pepin's weights are costly per pound
The Pepin adjustable dumbbells presented quite a conundrum for me.
On one hand, their quality is undeniable, but on the other, the price point is a steep climb, especially when pitted against the Ironmaster set, which offers a higher weight capacity for a bit more investment.
Here's the breakdown: Ironmaster's full 165 lb set rings in at $1518, while Pepin's "270 lb set" (capping at 120 lbs per dumbbell) asks about $978.
If you opt for just the Pepin handles and screws—sans weights—the cost is roughly $316.
But then, you're faced with the prospect of spending an additional $662 on standard plates, which is a hefty $2.75 per lb.
Now, for those who've already got a stash of standard weights, the Pepin handles are a steal.
But for the rest, the added expense of weights plus the hefty $290 shipping fee from Canada is a bitter pill.
However, I've got a workaround. These handles are compatible with any standard plates.
So, why not opt for more wallet-friendly weights?
You can snag some CAP Barbell cast iron standard plates on Amazon for about $1.50 or less per lb—a significant cut from Pepin's pricing.
CAP Barbell Cast Iron 1-Inch Weight Plate
Made of solid cast iron and coated in a gray baked enamel finish to prevent chipping and peeling. Ground edges and machine center holes ensure a standardized product. These weights are available in 1. 25, 2. 5, 5, 7. 5, 10, 12. 5, 25, and 50 lbs.
CLICK FOR BEST PRICE
We earn a commission if you make a purchase, at no additional cost to you.
You'll not only halve your costs but also benefit from Amazon's free shipping.
And there's no pressure to buy the whole set in one go—just pick up what you need and expand your collection as necessary.
Taking this path, the Pepin adjustable dumbbells become a viable contender.
Their design trumps other spinlock options, with knurling that strikes the right balance and endcaps that won't dig into your legs during setup.
So, if you're sitting on a pile of 1" plates or are willing to source cost-effective weights elsewhere, the Pepin adjustable dumbbells could be a smart addition to your home gym.
They're a solid pick for garage gym owners, especially when you play it smart with the plates.
Best Budget Spinlock – Kensui AdjustaBELL
Best Budget Spinlock
Kensui AdjustaBELL
Meet the Kensui Adjustabell: a compact, versatile solution for home gyms. Designed to accommodate both 1 and 2-inch
plates, these adjustable dumbbells ensure a secure grip with a knurled handle and rubber guard. Capable of supporting up to 140 lbs per pair, they're ideal for a variety of exercises, from presses to curls. Simple and efficient, the Kensui Adjustabell is a space-saving powerhouse for your fitness routine.
CLICK FOR BEST PRICE
We earn a commission if you make a purchase, at no additional cost to you.
They come with a money-back guarantee
Compatible with both 1 and 2" weights
A lifetime warranty on a budget option like this is incredible
Very compact as there is no overhang like most loadable dumbbells
Aren't as durable as cast iron steel as these are made of nylon
It's hard to use Olympic plates without the adapter they sell
The Kensui AdjustaBELL emerges as a standout choice for those who are navigating the often pricey waters of home gym equipment.
It's a breath of fresh air for budget-conscious home gym owners who still crave versatility and convenience.
The dual compatibility with both 1″ standard and 2″ Olympic weight plates is a game-changer, offering a level of customization that can cater to a variety of strength levels and exercise preferences.
The 34mm knurled handle, paired with a slip-resistant rubber guard, is a thoughtful touch, ensuring a firm grip that can handle the sweat and strain of intense workouts.
Capable of accommodating up to 140 lbs without any overhang is no small feat for a budget-friendly option, making the Kensui AdjustaBELL a suitable partner for a broad spectrum of exercises.
Its space-saving design is the cherry on top for home gym owners who are often playing a Tetris-like game with their workout space.
The lifetime warranty and money-back guarantee are the seals of assurance that often tip the scales for consumers who are on the fence, especially when venturing into the more affordable end of the market where durability concerns are valid.
However, the nylon construction might raise some eyebrows for those who equate heft and metal with longevity.
And while the need for an adapter for Olympic plates is a slight hiccup, it's a small concession in the grand scheme, given the overall value proposition.
In sum, the Kensui AdjustaBELL is a compelling option for those seeking a full-body workout solution that respects both their living space and their wallets.
It's a testament to the fact that 'affordable' can still mean 'quality' when it comes to adjustable dumbbells.
How I Rated the Adjustable Dumbbells
When it comes to rating these dumbbells, I don't just throw around stars like confetti at a parade.
I look at the build quality, the range of weight they offer, how easy they are to adjust, and of course, their durability.
I mean, if you're going to be tossing these around, they better be able to take a hit, right?
I also consider the grip comfort because nobody wants to work out with something that feels like holding onto a cactus.
And let's not forget the footprint – because if you're working out in a living room, garage, or a small space, size definitely matters.
Why You Should Trust Me
Now, you might be thinking, "Why should I take this guy's word for it?" Well, I've been in the strength training game long enough to know a thing or two.
I've trained in my garage gym for over a decade, trained with multiple pieces of equipment including various dumbbells, and I've got the calluses to prove it.
Plus, I'm not just about lifting heavy things; I understand the science behind it. I keep up with the latest research, trends, and I'm always looking for ways to improve that home gym experience.
Runner Up Options
There are quite a few adjustable dumbbells on the market that didn't quite make the cut for this list.
However, that doesn't mean they're bad by any means!
Here are the top runner up options that just missed the cut!
REP Fitness Quickdraw Adjustable Dumbbells
Rep Fitness typically garners high praise for their gym equipment, and they've got a solid track record to back that up.
However, when it comes to their Quickdraw Adjustable Dumbbell, we're in a bit of a holding pattern.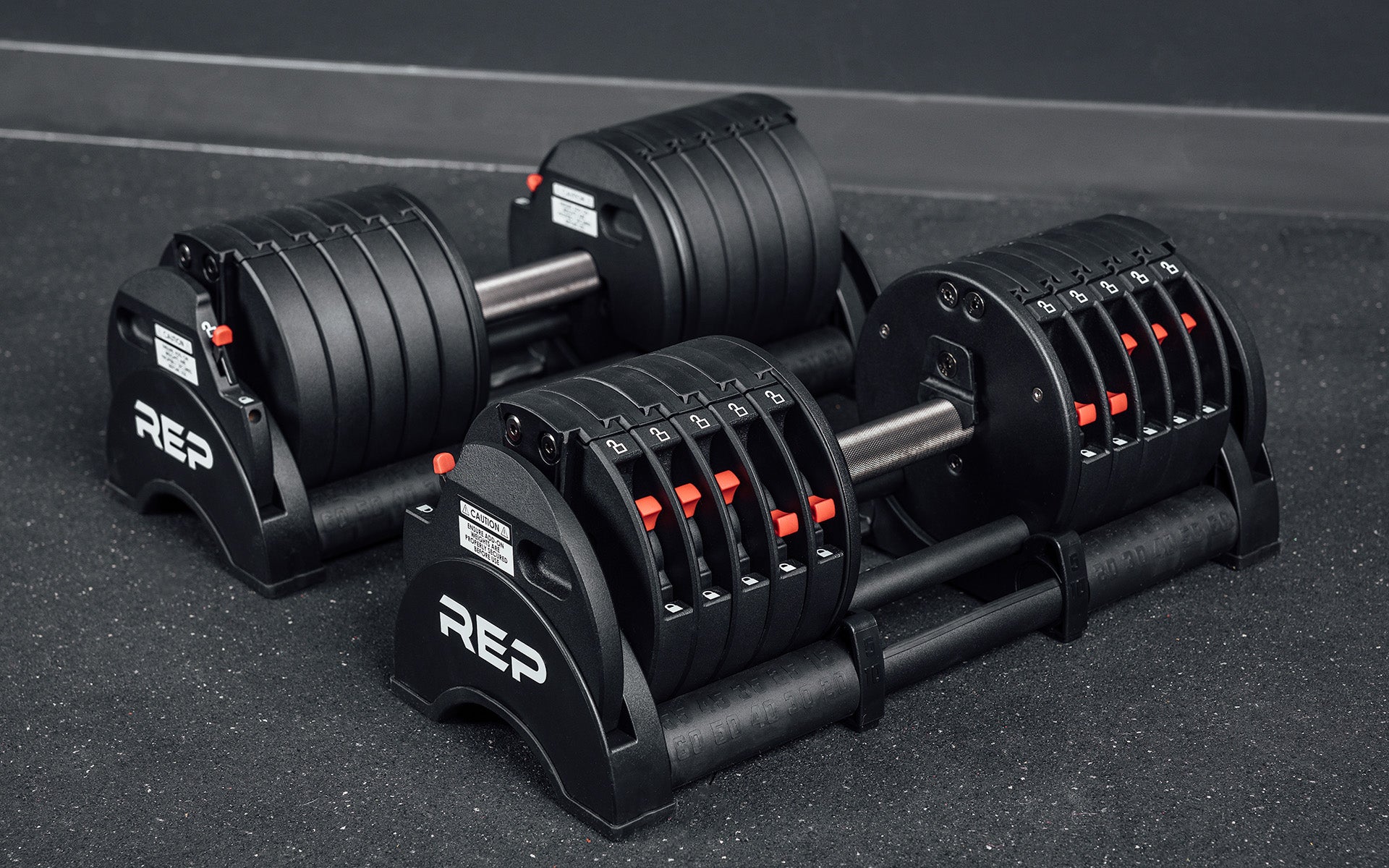 They haven't hit the market just yet, so as much as I'd like to give you the lowdown, we're all in the same boat—waiting for those real-world tests and user feedback.
Sure, there's a promotional video that showcases them looking sturdy and versatile, but as we all know, the proof is in the pudding—or in this case, the lifting.
It's crucial to see how they hold up under daily use, the kind of wear and tear they can withstand, and whether they live up to the durability that Rep Fitness is known for.
So, for now, we'll keep our ears to the ground and our eyes peeled for those first-hand accounts and reviews.
Once the Quickdraw Adjustable Dumbbells are out in the wild, being put through their paces, we'll have a much clearer picture of whether they're up to snuff.
Until then, let's hold off on forming any concrete opinions.
Nordictrack Select-A-Weight Dumbbells
The Nordictrack Select-A-Weight dumbbell set offers a weight range of 10 to 55 pounds, suitable for a variety of fitness levels.
They feature a user-friendly adjustment mechanism similar to Bowflex SelectTech, allowing quick weight changes.
The set includes storage trays for convenience and space-saving.
While constructed with some plastic, care should be taken not to drop them.
Priced at $349, they are an affordable option from a well-known fitness brand, making them a good value for those on a budget.
BaadAss Adjustable Dumbbells
These dumbbells in question offer a high weight capacity and a design that prevents discomfort during setup for exercises.
While the base price of approximately $330 for just the handles may seem steep, they could be a cost-effective solution for those who already possess standard weight plates.
The potential to load each dumbbell up to 225 lbs makes them exceptionally versatile for heavy lifters.
Despite the high cost, their robust build quality and exceptional weight capacity make them a recommended choice for serious lifters.
However, a price reduction could make them even more appealing and competitive in the market.
Options I DO NOT RECOMMEND
Now that we covered the competition I do recommend, here are a few that I absolutely do not recommend whatsoever.
Flybird Adjustable Dumbbell
I don't care what all the big websites recommending these have to say. They're complete garbage.
Despite glowing reviews on many sites, there's a worrying number of reports about these dumbbells failing mid-use.
The crux of the issue seems to be the plastic components that lock the weights in place—they're just too flimsy, some as thin as 1/4 inch.
Some people newer to the gym buy the flybirds thinking they're a great deal and end up going to the ER from weights dropping on their head or face.
I urge you not to listen to anybody stating that these are any good.
They aren't safe and there are much better options that won't fail on you.
Core Home Fitness Adjustable Dumbbell Set
I've got to be blunt here: the Core Home Fitness adjustable dumbbells are a hard pass.
They might look decent on the surface, but they just don't hold up to even moderate use.
I've come across too many reports of them breaking down, and what's worse, customer service seems to be a ghost town when you try to reach out for support.
But here's the real kicker: the gear mechanism, a critical component, is attached to the handle with glue. Yes, glue.
That's not just a minor oversight; it's a fundamental design flaw that screams a lack of durability and, frankly, a disregard for customer safety.
It's baffling to see big-name sites pushing these as a viable option.
It's clear to me that Core Home Fitness has some serious work to do if they want to earn any sort of recommendation.
Until they step up and address these glaring issues, I'd say keep your money safe and invest in a product that won't fall apart or, worse, cause injury.
Pros & Cons of Adjustable vs Traditional Fixed Dumbbells
| | | |
| --- | --- | --- |
| Aspect | Adjustable Dumbbells | Traditional Fixed Dumbbells |
| Space Efficiency | Take up less space; ideal for small areas. | Require more space for a full set. |
| Cost | More cost-effective over time. | Higher initial cost for a full set of weights. |
| Convenience | Quick weight change without switching sets. | Ready to use; no adjustments needed. |
| Versatility | Wide range of weights in one set. | Less versatile; each set is a fixed weight. |
| Storage | Easy to store with a stand or tray. | Requires more storage space; not as neat. |
| Durability | May have durability concerns due to moving parts. | Typically more durable with no moving parts. |
| Complexity | Can be complex with adjustment mechanisms. | Simple and straightforward to use. |
| Weight Limitations | Usually have a max weight limit lower than fixed weights. | Available in higher weights for advanced lifters. |
| Adjustment Time | Adjustment is quick but not instantaneous. | No adjustment time; faster transitions. |
| Size and Shape | Can be bulkier and affect exercise ergonomics. | Consistent shape and balance for all exercises. |
| Portability | More portable than a full set of fixed weights. | Less portable; moving a full set is difficult. |
| Scalability | Need to buy new sets as you get stronger. | Additional weights can be added as needed. |
What to Consider in an Adjustable Dumbbell
When selecting adjustable dumbbells, it's crucial to consider several key factors that affect their performance, durability, and overall value.
In the following sections, we'll break down what to look for in terms of usability, adjustment mechanisms, build quality, customer service, and cost-effectiveness to help you find the right fit for your workout needs.
Performance and Usability
In the realm of performance and usability for adjustable dumbbells, there are several aspects to consider:
Maximum Load Per Dumbbell – This is the heaviest weight that each dumbbell can hold. It's important to ensure the maximum load aligns with your strength and training goals.
Weight Increments – The ability to adjust the weight in small increments is beneficial for progressive overload and fine-tuning your training when hitting plateaus.
Stability and Lateral Rattle – A well-designed dumbbell should have minimal to no rattle, ensuring stability and a more natural feel during exercises.
Overall Footprint – The space the dumbbells occupy when not in use is a consideration for those with limited workout areas.
Balance in Hand – How the weight is distributed across the dumbbell affects grip comfort and the ability to perform exercises with proper form.
Efficiency – The ease and speed with which you can change weights between sets can significantly impact the flow and timing of your workout sessions.
Adjustment Mechanism
When evaluating the adjustment mechanism of adjustable dumbbells, two key factors come into play:
Adjustment Speed – This refers to how quickly and easily you can change the weight setting between exercises or sets. A faster adjustment speed means less downtime and a more efficient workout.
Weight Indicator Readout – A clear and accurate display that shows the selected weight can enhance the usability of the dumbbells, ensuring you're lifting the correct amount and tracking your progress effectively.
Build Quality and Durability
The build quality and durability of adjustable dumbbells are critical for both safety and longevity. Here's what to consider:
Durability and Longevity – High-quality materials and solid construction ensure that the dumbbells can withstand regular use and the occasional accidental drop. Look for dumbbells that are made to last and come with a warranty.
Shaft/Handle Materials – The materials used for the shaft or handle can affect the feel, grip, and overall durability of the dumbbells. Stainless steel or chrome-plated handles are typically more durable and provide a better grip than plastic ones.
Handle/Grip Length – The length of the handle should be comfortable for your hand size and provide enough space for a secure grip. Additionally, the grip texture, such as knurling, can enhance the safety and comfort of your workout.
Customer Experience and After-Sale Service
When considering the purchase of any home gym equipment, the customer experience and after-sale service are as important as the product features. Here's what to look for:
Warranty – A comprehensive warranty can provide peace of mind, indicating the manufacturer's confidence in their product. Look for longer warranties that cover a range of potential issues.
Brand Reputation and Customer Service Track Record – Research the brand's reputation and read customer service reviews. A brand with a positive track record is more likely to provide a satisfactory customer service experience.
Reviews – Look for reviews from verified purchasers to get honest feedback about the product's performance and the company's customer service.
Popularity Among Lifters – Products that are popular in the lifting community are often tried and tested, suggesting reliability and effectiveness. However, popularity shouldn't be the sole deciding factor, as it doesn't always equate to the best fit for your individual needs.
Economic and Production Factors
When delving into the economic and production aspects of adjustable dumbbells, two key factors to consider are:
Price – The cost of adjustable dumbbells can vary widely. It's essential to balance your budget with the quality and features you need. Sometimes, investing a bit more can lead to better durability and a longer lifespan for the equipment.

Manufacturing Location – The place where the dumbbells are made can influence their quality and price. Products manufactured in countries with higher labor standards often have better quality control but may come at a higher cost. Conversely, those produced in countries with lower production costs might be cheaper but could potentially compromise on quality.

Frequently Asked Questions
Conclusion
Best Overall
POWERBLOCK Elite Adjustable Dumbbells
PowerBlock Elite Adjustable Dumbbells replace a full dumbbell set, ranging from 5-50 lbs per hand, expandable to 90 lbs. They feature an auto-lock and chrome adder weights for precise 2.5 lb adjustments. Easy selection is ensured with color-coded side rails. Their welded steel build and powder coat finish guarantee durability.
CLICK FOR BEST PRICE
We earn a commission if you make a purchase, at no additional cost to you.
If you're in the market for a top-notch adjustable dumbbell set, the selections we've discussed are the cream of the crop, offering both excellence and functionality.
These standout dumbbells represent the pinnacle of quality and performance in the market.
Until next time,
-Dante