Exploring the Different Types of Deadlift Bars – A Comprehensive Guide
Are you looking to up your deadlift game? One way to do so is by investing in the right deadlift bar.
With so many types of deadlift bars available on the market, it can be challenging to determine which one is the best fit for your lifting goals.
So in this guide, I'll cover the different types of deadlift bars, their pros and cons, and the best option for each.
Let's get started!
What Are The Different Types Of Deadlift Bars?
You can technically deadlift with any Olympic barbell as long as the sleeves are long enough to hold heavy weight.
Something like a standard barbell or curl bar is not recommended for deadlifts as they aren't built for the maximal loads you'll need to use.
Here are the different types of deadlift bars you can use.
RELATED – What Is A Deadlift Bar?
Multipurpose Barbell
A multipurpose barbell – also known as an all-purpose, general-purpose, hybrid, or sometimes just a CrossFit bar, is built to withstand any type of lifting.
Whether that's powerlifting, weightlifting, or CrossFit as you might have guessed – they'll allow you to do it all.
The 28.5″ shaft of a men's multipurpose barbell is actually great for the deadlift, but a women's 25″ multipurpose bar is going to be even whippier compared to a power bar.
Multipurpose bars can also be found with or without center knurls, which as we all know, removing the center knurl for the deadlift is preferable.
Here are a couple of the pros and cons of using a multipurpose barbell instead of a proper deadlift bar.
Pros
Thinner shafts compared to power bars will allow for more whip and a better starting position.
You can sometimes find all-purpose barbells without a center knurl which is a better option while deadlifting.
The thinner diameter is also much easier to hold onto and pull with while performing the deadlift.
A hybrid barbell is good at all lifts which allow for more versatility in the lifts you can perform.
Cons
C

rossFit bars tend to have more mild knurling so the grip won't be as good as a more aggressive power or straight deadlift bars

.
Because they're solid for everything, they aren't necessarily great at any one thing, so if you want to get better at the deadlift for competition, proper deadlift bars should be used.
Best Multipurpose Barbell – Men's
Best Multipurpose Barbell - MEN's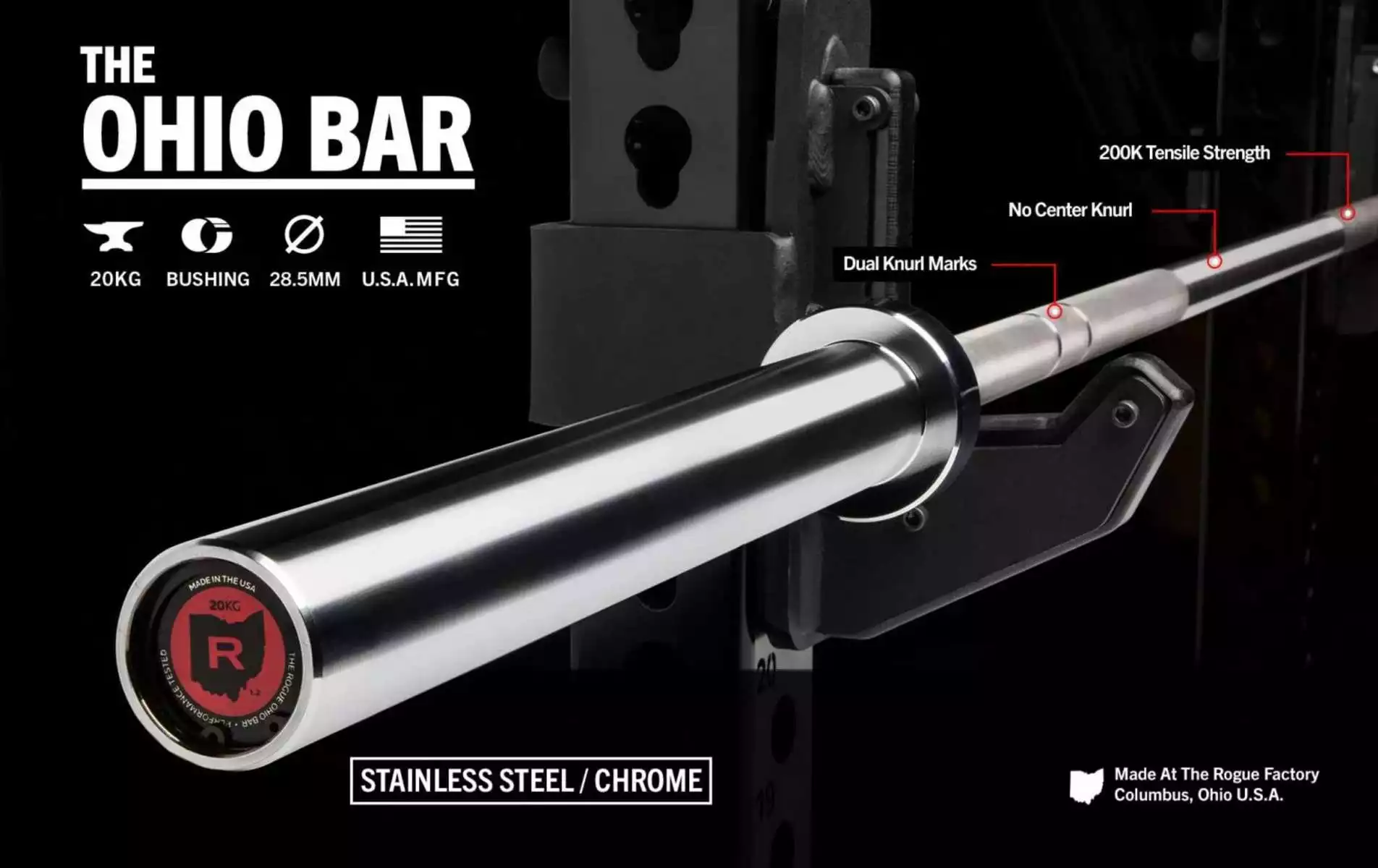 The Ohio Bar – Stainless Steel
Made in the USA, The Ohio Bar is a top-of-the-line, multipurpose barbell. It's constructed of the highest quality materials with a 200,000 PSI shaft and chrome sleeves for a consistent spin. The Ohio Bar has a firm, non-abrasive grip and is perfect for both Powerlifting and Olympic lifts. With its unique balance of whip and rigidity, this bar is ideal for any serious lifter.
CLICK FOR BEST PRICE
Best Multipurpose Barbell – Women's
Best Multipurpose Barbell - Women's
BOMBA BAR V3 WOMEN'S BARBELL
The BOMBA BAR V3 WOMEN'S BARBELL is the perfect barbell for women. It has a 15kg bar weight and a 25mm diameter. The dual knurl marks provide a secure grip while you're lifting. The black CERAKOTE shaft coating protects the bar from rust and scratches, while the black zinc sleeve coating protects the sleeves from wear and tear. The tensile strength of the BOMBA BAR V3 WOMEN'S BARBELL is 206,000 PSI and has a lifetime warranty as well.
CLICK FOR BEST PRICE
Olympic Weightlifting Barbell
Olympic weightlifting bars are built mainly for Olympic lifting, which consists of the Snatch as well as the Clean and Jerk.
The 28mm shaft diameter allows for more whip and flexibility to get under the bar easier than a stiffer bar.
This actually makes a weightlifting barbell an okay option for deadlifting as the whip is similar to specialty deadlift bars.
Pros
2

8mm and 25mm shafts of men's and women's weightlifting bars offer a ton of whip to break the plates off of the ground and have a higher starting position.

S

ome Olympic lifting bars don't have a center knurl that can drag up your legs while deadlifting.
Cons
Olympic weightlifting bars tend to have less aggressive knurling compared to deadlift bars.
T

he IWF knurl marks are further out than power bars so it might be hard to determine your grip if you're training with

different bars.

Most weightlifting bars have a center knurl to help grip while catching a clean.

W

eightlifting bars are the most expensive type of Olympic barbell you can get.
Best Olympic Weightlifting Bar – Men's
Best Olympic Weightlifting Bar - Men's
Rogue 28MM Training Bar – Black Zinc
The Rogue 28MM Training Bar is designed, machined, and assembled at the Rogue factory in Columbus, Ohio using the same steel shaft and uniform knurl pattern as our Olympic WL Bar. In place of the Oly Bar's bearing sleeves, however, the Training Bar is assembled with bronze bushings in the style of the Rogue Ohio Bar.
CLICK FOR BEST PRICE
Best Olympic Weightlifting Bar – Women's
Best Olympic Weightlifting Bar - Women's
Rogue Women's Pyrros Bar - 25mm
The Rogue Women's Pyrros Bar is the perfect choice for serious Olympic weightlifters who demand the best equipment to help them reach their goals. This bar is constructed with a stainless steel shaft that boasts a 200,000 PSI tensile strength, making it incredibly durable and long-lasting. The chrome sleeves feature high-quality needle bearings, which provide a smooth spin and great performance. The bar is machined and assembled in Columbus, OH, ensuring superior craftsmanship and attention to detail.
CHECK PRICE
Power Bar
Power bars are primarily used for the Squat, Bench Press, and Deadlift for powerlifting.
However, the thick shaft diameter of 29mm is definitely harder to pull with than proper deadlift bars.
But overall, if you just want one bar that can handle as much weight as possible, power bars are great and will work perfectly fine for deadlift variations.
Pros
A

ggressive knurling is great for pulling movements if you can handle it.

Th

e longer loadable sleeve length is much easier to load up with non-powerlifting plates that most people don't have access to.

Can

handle any and all weights thrown at it with the thicker 29mm shaft diameter as well as the higher tensile strength.
Cons
T

he stiffness of the bar means there is barely any whip so you have to break all of the plates off the floor at the start.

U

sually has a center knurl that helps with grip on the upper back while squatting.
Best Power Bar
Best Power Bar
Rogue Ohio Power Bar
The Rogue Ohio Power Bar is designed to handle the toughest workouts with its impressive 200,000 PSI tensile strength. This barbell is built to last with a lifetime warranty and is made in the USA with high-quality materials. The 29mm diameter and bushing sleeves provide a smooth spin, making it perfect for powerlifting movements. The bar is available in various finishes, including stainless shaft/sleeves, stainless shaft/chrome sleeves, black e-coat/bright zinc, bare steel shaft/sleeves, and bright zinc shaft/sleeves.
CLICK FOR BEST PRICE
FULL REVIEW
RELATED – Best Powerlifting Barbell For Your Home Gym
Specialty Deadlift Bar
Specialty deadlift bars are designed specifically for deadlift variations performed from the floor. Mainly the conventional deadlift as well as sumo.
They have a much thinner shaft than a traditional power bar at 27mm which allows the bar to flex more.
Because deadlift bars can flex more, you don't have to break all of the plates off of the floor at the same time.
Plus, the thinner bar diameter is much easier to hold onto while deadlifting.
Pros
T

he thinner shaft is easier to hold onto and allows for more whip for a better starting position.

V

ery aggressive knurling will be hard to let go of even with heavier loads.

N

o center knurl to drag that aggressive knurling up your shins and legs.
Cons
D

eadlift bars have shorter loadable sleeves which can be hard to load maximally if you only have thicker

bumper plates

.

D

eadlift bars are much more expensive than typical power bars.

Th

ey're only really built for the deadlift so they provide much less value than other barbells.
Best Deadlift Bar
Best Deadlift Bar
Rogue Ohio Deadlift Bar
The Rogue Ohio Deadlift bar is the best barbell on the market if you want to deadlift heavy weights. The 27mm shaft and aggressive knurling provide the best grip possible and the right amount of whip to get into your optimal starting position. The loadable sleeve length of 15.5" will allow you to load as much weight as you'll ever need. Plus, there are various shaft and sleeve finishes available to get the best option for your own training. If you want the best deadlift bar overall, this is it.
CLICK FOR BEST PRICE
Trap Bar
A Trap bar, also known as a hex bar, is a specialty bar used primarily for trap bar deadlift variations.
Trap bars have neutral grip handles that allow for a much more comfortable grip than traditional deadlift bars.
It is commonly known as a hex bar due to the shape of the bar itself. They don't have a straight shaft like Olympic bars and instead have a hexagonal frame that you can stand inside of.
This allows you to deadlift with a more upright torso for more quad-biased deadlift movements, or you can set up somewhere in between an upright and a more conventional deadlift position.
Some trap bars also have an open frame design that makes it easier to setup and most can be used as a deadlift jack as well.
Pros
The neutral grip position is far more comfortable while deadlifting than an overhand or mixed grip with regular deadlift bars

.

Allows for far more variations than specialty deadlift bar

s.
For those that just want to get stronger at pulling heavy weights from the floor and have back issues, a trap bar is the best option as you can be much more upright.
Cons
T

rap bars are not used in competition so you still have to pull with a straight bar if you plan on competing.

N

ot all trap bars will be comfortable for certain lifters to use as the handles can be too narrow or wide.
Best Trap Bar
Best Trap Bar
Rep Fitness Open Trap Bar
The Rep Open Trap Bar is the best deadlift hex bar on the market if value and versatility are important to you. Not only does it have multiple handle options that are fully stainless steel, but it also has a built-in jack that keeps the bar balanced while performing trap bar deadlifts. The deadlift jack is also super handy for loading/unloading plates. You can also use Reps open hex bar just like a cambered squat or bench press bar, making it by far one of the best value trap bars by far!
CLICK FOR BEST PRICE
What To Consider When Choosing Deadlift Bars
Barbell Finishes/Coatings
Deadlift bars can come in a variety of finishes and coatings.
Bare steel bars have an aggressive knurling and a raw, rustic look, while coated bars have a more polished appearance and may have a smoother feel.
Both types of bars have their advantages and disadvantages, and the choice often comes down to personal preference.
As usual, I highly recommend a stainless steel bar as they require less maintenance and don't fill in the knurling as other barbell coatings do.
Barbell Diameter
If you want to get all the benefits of proper deadlift bars, you should make sure the bar has a thinner shaft diameter of 27mm.
This will be easier to hold onto and will allow the bar to flex with heavy weights for a better starting position.
Whip
Stiffer barbells aren't the best for deadlifting as they don't have as much whip at all.
You want a whippy barbell to take advantage of the whip the bar generates and have an easier time breaking the weight plates off of the floor.
Type Of Knurling
For deadlift bars, the more aggressive the barbell is the better.
This will ensure you have the best grip possible which will allow you to lift more weight.
Center Knurling
Center knurling refers to the knurling in the center of the bar, which can provide additional grip during squats and cleans.
However, an aggressive center knurling mixed with the deadlift will scrape your shins and legs up.
So either get some shinguards to deadlift with or get a barbell without a center knurl.
Tensile Strength and Weight Capacity
Tensile strength is the maximum amount of stress a bar can withstand before it breaks.
The weight capacity of a bar refers to the maximum amount of weight that can be loaded onto the bar.
Both of these factors are essential when selecting a deadlift bar, especially for those lifting heavier weights.
In general, a barbell with at least a 1,000lb weight capacity and 180,000 tensile strength will cover your bases.
Frequently Asked Questions
What Makes Olympic Barbells Spin?
The olympic barbell spinning mechanism allows for smooth rotations during weightlifting exercises. Its advanced design consists of needle bearings and bushings, which reduce friction and enable the barbell to spin freely. This spinning action enhances performance by minimizing strain on the wrists and increasing stability, ultimately allowing athletes to lift heavier weights with better form.
Conclusion
Now I turn it over to you!
Which one of these deadlift bars is the best option for you?
Let me know in the comment section below, right now!
Until next time,
-Dante